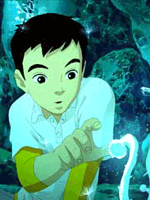 I honestly didn't expect the list to hit so soon on the heels of my item earlier this afternoon, but hit it has.  And it actually appears that "The Dreams of Jinsha" was the other title submitted, not "Chico & Rita."
Alas, there are only 15 titles that qualified, meaning we will only see three nominees in the category this year.  "Yogi Bear," predictably, did not qualify, while "Idiots and Angels," it turns out, did.  I'd LOVE to see Bill Plympton in an Oscar race.
The rest are the usual suspects, but it's a real shame we can't have a full slate this year.  Speaking solely for myself, I'm liking a lot of feature animation in 2010.  TheGolden Globes, however, could still see five nominees as long as 14 titles were submitted to the HFPA for consideration.  Check out Oscar's field of animated feature contenders after the jump.
"Alpha and Omega"
"Cats & Dogs: The Revenge of Kitty Galore"
"Despicable Me"
"The Dreams of Jinsha"
"How to Train Your Dragon"
"Idiots and Angels"
"The Illusionist"
"Legend of the Guardians: The Owls of Ga'Hoole"
"Megamind"
"My Dog Tulip"
"Shrek Forever After"
"Summer Wars"
"Tangled"
"Tinker Bell and the Great Fairy Rescue"
"Toy Story 3"
And from the press release:
"The Dreams of Jinsha," "The Illusionist," "Summer Wars" and "Tangled" have not yet had their required Los Angeles qualifying run. Submitted features must fulfill the theatrical release requirements and meet the category's other qualifying rules before they can advance in the voting process.

Under the rules for this category, in any year in which 8 to 15 animated features are released in Los Angeles County, a maximum of 3 motion pictures may be nominated. If 16 or more animated features are submitted and accepted in the category, a maximum of 5 motion pictures may be nominated.

Films submitted in the Animated Feature Film category also may qualify for Academy Awards in other categories, including Best Picture, provided they meet the requirements for those categories.