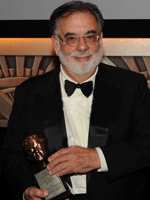 This weekend the Academy toasted the careers of film historian Kevin Brownlow, French auteur Jean-Luc Godard and character actor Eli Wallach with a trio of Honorary Oscar statuettes and bestowed the Irving Thalberg Award on legendary helmer Francis Ford Coppola.
I didn't attend the ceremony, but there's lots of coverage out there.  Rather than pack it all into this morning's round-up, I figured it best to dedicate another post.
Variety had a big spread leading up to the evening.  David Cohen writes up Coppola's life and work with quotes from longtime collaborator and editor Walter Murch, Tatiana Siegel pays tribute to Godard's independent ways, Bob Verini dives into Eli Wallach's wide range of roles and Caroline Frick Page makes sure Kevin Brownlow doesn't get left out with a salute to his borderline obsessive sleuthing and restoration efforts.
Meanwhile, Steve Pond was in attendance, noting that the ceremony extended far longer than last year's inaugural staging and that it is "the friendliest, most low-pressure awards show on the Academy's calendar."
Deadline's Pete Hammond was also on hand, and served as a writer of the show, which he says "mostly involved framing things historically."  Others there included Anne Thompson of Thomson on Hollywood and Adam B. Vary of Entertainment Weekly.
It sounds like it was a lovely night and, though there is much complaining that this event ought to be televised, maybe an intimate event is ultimately something preferred by those honored.  They sound like charmingly casual functions.  But it still meant nothing to Godard.
You can check out video of all the acceptance speeches at Oscars.org.
[Photo: Getty Images]