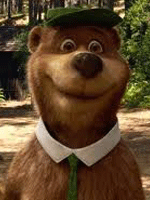 The Academy will be announcing the list of qualifying films for this year's Best Animated Feature Film Oscar some time this week.  For now, we know of 16 titles that have submitted.  They are indicated on our dedicated page.
There was some confusion recently over which film was the 16th submission, but I'm told it was "Chico & Rita," which bowed at this year's Telluride film festival (it was the first film I saw at the fest, in fact).  (CORRECTION: Turns out it was "The Dreams of Jinsha" instead, as noted here.)  If all 16 films qualify, then we'll be looking at a slate of five nominees after all.  But if just one falls out, then it's back to three.
The most dubious contenders could be "Cats & Dogs: The Revenge of Kitty Galore" and "Yogi Bear," which may not meet eligibility requirements.  But the language is a bit loose, noting that "a significant number of the major characters must be animated, and animation must figure in no less than 75 percent of the picture's running time."
Meanwhile, commenters here have mentioned that Bill Plympton's "Idiots and Angels" aired on German television earlier this year.  If that is indeed true, it would seem that would disqualify the film based on an overriding rule of eligibility governing all features.
In addition to "Chico & Rita," I've of course seen the two frontrunners of the category, "How to Train Your Dragon" and "Toy Story 3." I also caught Sylvain Chomet's "The Illusionist" in Telluride and saw "Despicable Me" late in its theatrical run.  Disney's "Tangled" I saw and loved at an industry event (with just a couple of scenes still in pre-res form) and I was a big fan of "Megamind."
This morning I caught up with "My Dog Tulip," a lovely piece adapted from the memoir by J. R. Ackerley about the author's relationship with his German Shepherd.  The animation is endearingly crude and the film features the final screen role of Lynn Redgrave (to whom the film is dedicated).  But in a field of three, it'll be tough to push past studio heavyweights.  The rest of the field, I haven't seen yet.
I still stand by the three indicated in the right sidebar, but the Gurus o' Gold seem to think "Despicable Me" will fill out the crowd.  I actually think "Tangled" has a better shot than that film, but given the animators' response to "The Triplets of Belleville," I'll just ride it out with Chomet for now.
[Photo: Columbia Pictures]