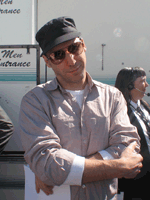 I had the loveliest time last night at a reception in honor of "Toy Story 3" writer Michael Arndt hosted by the great Robert Towne.  The night began to wrap up and with nearly all guests having left, things segued to the hotel bar as USA Today's Anthony Breznican, director Lee Unkrich, composer Michael Giacchino, Arndt and I ended up hunkered down talking the night away.
It's a conversation that remains happily off the record, but spending a solid hour or two talking with Arndt about the craft and mechanics of screenwriting is something I'll always cherish.  Firstly, here is a guy (we first met four years ago during the "Little Miss Sunshine" ride) well aware of the luck he's stumbled into and so modest and borderline embarrassed by his success that you just can't help but root for him.  But the passion he has for the form is an absolute treat for anyone interested in being a writer.
Unkrich, meanwhile, has the most undying passion for Stanley Kubrick and, specifically, "The Shining" (his favorite film, and one referenced a number of times in the film).  He flashed a number of photos on his iPhone of collectibles from the film that he's been accruing as of late (one of them being the axe Jack Nicholson wields in the film's most famous sequence) and recalled his trip to London's Stanley Kubrick Archive.
Giacchino, meanwhile, is just the most unassuming Jersey boy you could imagine.  We spoke last year on the phone regarding "Up," but this was the first time we'd met face to face.  He talked giddily, along with Unkrich, about visiting the baby blue barn at Skywalker Ranch containing countless props and pieces of "Star Wars" and Indiana Jones lore as if they had visited Mecca and circled the Kaaba seven times.  I'll admit to being a bit jealous at a photo of the composer next to the Ark of the Covenant from "Raiders of the Lost Ark."
When you talk to these guys, the love and enthusiasm for filmmaking and movies in general bubbles to the surface in every exchange.  When people talk about Pixar, it begins to sound like Utopia, too good to be true, but it's a collection of like minds obsessed with telling stories and above all, in love with the process of making those stories great.  Arndt says he couldn't believe a place like that existed when he first went there a number of years ago, and the experience has clearly moved him and changed the way he perceives his craft.
Earlier in the evening, Ardnt took center stage to thank Towne for hosting the evening and for giving him his first job in the business working on a script.  It had to be heady stuff getting your first gig from the writer of what is largely considered one of the great screenplays of all time ("Chinatown").
A wonderful night overall.  And much preferred to the stuffy reception meet-and-greets that pepper the awards season landscape.
[Photo: Hollywood-Elsewhere]