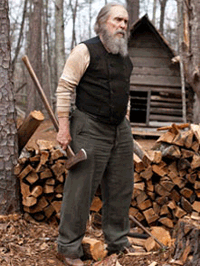 Catch up with the idea behind these weekend posts here.
It's been a hell of a week.  The busiest, for me, of the season so far.  Much of that is owed to AFI Fest, but the campaign machinery is really clicking.
Sony Classics sent out screeners of "Get Low" to Academy members this week, right on the heels of Robert Duvall coming into town to make the usual rounds.  Which actually brings me to an observation/point/complaint.  Give me some feedback here, if you don't mind.
First and foremost, it's understood that publicists are doing their jobs by squeezing talent into small windows for multiple journalists, but I'm not alone in feeling that the consistent lack of any real exclusivity is beginning to grate.  Every time I go to another interview, I'm bumping into David Poland and his camera crew, offering a wave and chatting with Steve Pond, catching up with Tom O'Neil, etc.  A few days later, we all have similar interview items up.  And the point is less about what I want and more about what you, as the reader, get.
Granted, it is the job of the journalist to shake things up and keep the interview fresh.  But with the limited time we're sometimes afforded, there are still certain things that have to be covered.  And talent, as would be expected in the midst of a journalistic deluge, settles into a groove of uniform responses (unless, of course, you're Michelle Williams and you strive to make every answer unique and take the time to seek out the deepest, honest answer).  Overall, though, this is why I rarely bother with a junket opportunity, because that's a situation with tons of journalists getting the same material.  But at least junkets have a variety of outlets rather than aiming at one particular niche of the entertainment spectrum.
In awards season coverage, I'm lucky enough to have a six month span of time that makes sense for any piece.  I don't have to publish things around a film's release because interviews with contenders play any time between September and February.  So I've certainly suggested sprinkling that access and stretching the coverage out a bit (and this would obviously behoove the aims of publicists as well, so it's win-win).
My question to you is, when you read an interview here and then see pretty much the same thing elsewhere, does it become at all, I don't know, frustrating?  Does the saturation hurt at all, or do you not really notice all that much?  It's an honest curiosity.  I don't want to get to the point where I'm simply offering up a few choice sound bytes after sitting down with a guy like Robert Duvall for fear of treading the same territory as someone with a shared audience.
Anyway, that's what I've got for you this week.  Address it if you like or, otherwise, cut loose with whatever.  Open thread.
[Photo: Sony Pictures Classics]