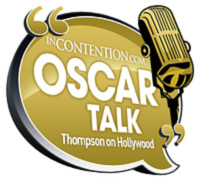 Welcome to Oscar Talk.
In case you're new to the site and/or the podcast, Oscar Talk is a weekly kudocast, your one-stop awards chat shop between yours truly and Anne Thompson of Thompson on Hollywood. The podcast is weekly, every Friday throughout the season, charting the ups and downs of contenders along the way. Plenty of things change en route to Oscar's stage and we're here to address it all as it unfolds.
AFI Fest has concluded, the first Academy Award ceremony of the year hits this weekend and we find ourselves in the thick of things. Between Galas, premieres, parties and the usual, there's plenty to chew on, so let's see what's on the docket today…
• Darren Aronofsky's "Black Swan" saw it's Los Angeles premiere as part of AFI Fest's closing night festivities last night. Anne and I were both there to take it in and observe the local crowd's reaction.
• Also bowing at AFI Fest as a "secret screening" was David O. Russell's "The Fighter," which also screened to industry members on the Paramount lot this week. We discuss what we like about the film and its awards potential.
• This leads into an impromptu discussion of the sad state of spinelessness seen throughout the studio system, reflected in great films like "The Way Back" not being picked up by a major studio and "Black Swan" almost not even being made.
• Anne was at last weekend's Britannia Awards. She offers her thoughts on the night.
• Similarly, tomorrow night brings the Governors Awards, where Francis Ford Coppola, Eli Wallach, Jean-Luc Godard and Kevin Brownlow will be honored. Anne will be on hand and we preview the ceremony.
• Finally, reader questions. We address topics including "The Way Back," the Best Original Song category and James L. Brooks's elusive "How Do You Know."
Have a listen to the new podcast below. If the file cuts off for you at any time, try the back-up download link at the bottom of this post. And as always, remember to subscribe to Oscar Talk via iTunes here.
[display_podcast]

Back-up download: Oscar Talk Episode 40