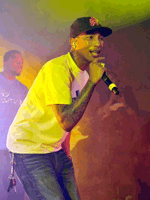 This track is probably a bit of a long shot in this year's race for Best Original Song, but, well, it's awesome.
Hip-hop artist Pharrell Williams (who goes by simply "Pharrell") contributed the original tracks to Universal's summer animated effort "Despicable Me." They give the film a smooth, rhythmic vibe and go a long way toward the film's overall personality, too.  In that sense, they really should be considered some of the best song contributions to a film this year.
The title track, "Despicable Me," plays over an opening sequence that introduces the audience to the central character, villain-turned-softy Gru.  It's a key sequence given what we see unfold, as it establishes Gru as diabolical in a quick series of devilish moments with the character.  I imagine when voters are sitting there watching the songs in context, going through clip after clip, this one could stick out as particularly humorous.
It would be nice if songs like this were taken seriously by the music branch, but I feel they aren't lofty enough to get the benefit of the doubt.  Pharrell is a great talent and it would be unique and fresh to see someone like that get a nomination, but those two words are often absent from a nominee slate's vocabulary.
Have a listen to "Despicable Me" below, and remember to follow the Best Original Song via its dedicated page here.
[display_podcast]
[Photo: Life]