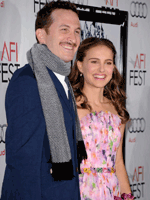 Last night was closing night of the 2010 AFI Fest, and they put a bow on things by offering up the Los Angeles premiere of AFI alum Darren Aronofsky's "Black Swan." I decided to head over to the Chinese Theatre to give it another look.  At this stage in the season, Telluride feel like ages ago and it's nice to saddle up back to a film like this after you've seen and therefore know what you're getting into.
Aronofsky offered his usual self-deprecating patter before hand, introducing stars Vincent Cassel, Barbara Hershey, Winona Ryder and Natalie Portman, as well as producer Scott Franklin.  He noted that the Chinese is his "favorite theater in the world" and that he can recall visiting Los Angeles as a kid and catching a film with his parents.  When he attended the AFI, he would always head over to the theater (which isn't far from campus) to see new releases every weekend.
He was pumped for Sylvester Stallone to be in the house and went through the expected thank yous before unleashing the film on yet another unsuspecting crowd, and from my vantage, it seemed to go over well.  One person outside the theater afterward was heard saying, "I don't even know what emotion to feel right now."
That's the impact "Black Swan" has after an initial glance.  When I saw it in the Colorado mountains over two months ago, I thought it was an absolutely brilliant opus bathed in poignant, gripping metaphor and, of course, featuring a tour de force leading performance from Portman.  I had some very minor quibbles with the narrative, but I had a feeling a second look would eventually smooth those out, because without question, this is one of the year's very best films.
The below the line here is an embarrassment of riches.  Matthew Libatique's cinematography leads the way, capturing an undeniable atmosphere of dread and anxiety.  Some might think the decision to shoot the film on Super 16 goes a long way toward impacting a gritty look to the canvas, and I'm inclined to agree, but some of the compositions are just so beautiful I'd have liked to see them free of that grainy verité feel that Aronofsky is clearly still high on following "The Wrestler."
The sound design stuck out to me even more this time.  Particularly the sound editing, as there are a lot of variables flying around on this soundtrack, be them effects or subtly layered vocal elements that put the main character on an edge throughout.  And it's all blended together nicely with a few original pieces from Clint Mansell and, of course, the soaring brilliance of Tchaikovsky to make for a sonic experience like no other.
I was having a conversation with Steve Pond following the screening, who still thinks the film will land a Best Picture nomination, and he made a valid point.  What will help a film like "Black Swan" into the field is the preferential ballot system, because if you like it, you likely love it.  There's no real in-between here.  And a passion vote can get it there.  Combined with below-the-line respect, maybe the film can make it.  I'm beginning to believe, ever so slightly.
And it goes without saying, Andrew Weisblum's editing is crucial to establishing the thriller atmosphere and keeping the audience on edge.
But Aronofsky's brilliance really deserves to be in the hunt for Best Director, regardless.  This is powerful, audacious filmmaking, the kind that has come to signify his career to date.  These are the kinds of bold leaps worth awarding, and I find it encouraging that two of the most aesthetically and conceptually bold films of the year come from a studio, albeit a dependent, in Fox Searchlight.  "There's really no other studio making films like this," Aronofsky said beforehand, and given the conservative environment as of late, it's great to see the company sticking to its mission statement with a film like this and "127 Hours."
Of course, when you're coming off hits like "Slumdog Millionaire" and "The Wrestler," it's a little easier to make those gambles.
The crowd seemed breathless when the film concluded.  Big applause for all involved, particularly Portman.  It's a film that takes a lot out of you but is very rewarding, especially if you're of an artist's mind.  The film is about the creative process, the challenge of pushing yourself through discipline and yet having the bravery to lose yourself in that process.  I'm quite sure if Aronofsky had not lost himself and gone to some scary, unsure places as an artist, we wouldn't have received films like "Requiem for a Dream" or "The Fountain."
If members of the Academy can see some of the tougher, more risque elements of the film properly as metaphor, they might just see it as a film about themselves.
(Check out the film's recently unveiled official site here.)
[Photo: Getty Images]