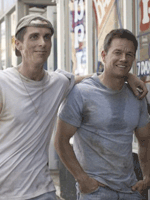 David O. Russell's "The Fighter" may have had its first public screening Tuesday as an AFI Fest "secret" event (with plenty of press in attendance), but last night's SAG nominating committee screening on the Paramount lot has been on the calendar for most the past week.  Naturally, it was a packed house, which can be owed in part to the presence of the film's cast for a post-screening Q&A.
I came late just for the Q&A, which was moderated by Deadline's Pete Hammond.  Melissa Leo couldn't be there due to a filming conflict in New Orleans but she passed along her apologies in an email Hammond read to applause from the crowd.  Much of the discussion naturally circled around performances, given the audience, and Hammond again made the (valid) point that the film is a character piece more than a "boxing movie."
Mark Wahlberg talked plenty about the film's long journey to the screen, the fact that he had to spring for it himself as producer in order to get it made and his long-time relationship with Micky Ward (who he's known since he was a teenager).  Rather than take the cheap route with a Toronto shoot, Wahlberg was adamant that the film be shot in Lowell, Massachusetts, the story's setting, because the environment is such a character in and of itself.
He also was having a hard time deciding who to cast as Ward's half-brother, Dicky Eklund, until it clicked one day — his daughter goes to the same school as Christian Bale's daughter.  Noting that Bale has gone to some dark places (physically, as well) in films like "The Machinist" and "Rescue Dawn," he felt Bale would be perfect for the role.
Meanwhile, Bale (his hair strikingly long and full, contrasting with the bald spot he showcases in the film) actually pushed back a bit when it came to audience questions regarding those "dark places."  Someone inevitably asked the tired query, "How do you come back from those places?  Are you ever afraid you won't be able to snap out of it?"  For Bale, coming out of the morose performances is easy, because who wants to stay in that kind of funk?  But with Eklund (who Bale likes very much and says he plans to know for many years to come), the actor found a buoyant, light spirit who may have lived through some dark times but never lost that trademark levity.  So in fact, he almost didn't want to snap out of it when filming was finished.
Adams said she was happy Wahlberg saw "that side" of her personality when he offered her the role of hard-as-nails girlfriend/bartender Charlene.  Adams, of course, is known for perky and precious depictions in films like "Doubt," "Enchanted" and "Mrs. Pettigrew Lives for a Day," so for her to be tattooed, donning belly shirts and slugging it out in cat fight brawls with Ward's colorful family, it's a departure, to say the least (which ought to be great fuel for her awards cause).
McGee, meanwhile, was all laughs and jokes.  The New York firefighter-turned character actor endearingly called director Russell a "whack job" and seemed humbled and gracious to be a part of this cast and to be on stage with them last night.
It was a solid first stop on the circuit and the crowd really responded to the work.  We'll see how it goes from here.  I've included audio of the Q&A below.
[display_podcast]
(Meanwhile, here is Mike Fleming talking to Wahlberg at Deadline.)
[Photo: Paramount Pictures]