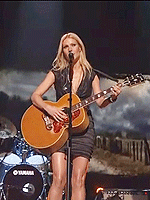 A little event dropped at last night's Country Music Association Awards: Gwyneth Paltrow took to the stage to perform "Country Strong," the title track from the upcoming Screen Gems release, with a little help from country star Vince Gill.
I haven't seen the film yet, but depending on how the original songs are used in the film, we could be looking at a nominee in, say, "Me and Tennessee" or "Coming Home."  I've been going back and forth on something from that or something from "Burlesque," both Screen Gems releases.  But I've felt compelled to list two tracks from "Tangled" all this time.  Turns out we can nix the idea of multiple songs making it from that Disney effort, though.
One nugget I turned up during my interview with composer Alan Menken this afternoon is that only one song from the film — "I See the Light" — will be submitted for Oscar consideration.  It was a collective decision, and the reason, he freely admitted, was calculation.
When "Enchanted" landed three nominations for Best Original Song in 2007, he was of course ecstatic, but he and Disney knew that pretty much excluded the film from winning.  This time, all involved felt it was better to let one track represent the film.  Obviously, that will help the odds at taking the gold.
Consider it manipulative if you want, but I think it's smart.  With potential for vote-splitting out of the way, "I See the Light" could just win if the Academy responds well to the film (and I think they might — it's a real winner).  But as you know, we'll be keeping an eye on that race as it unfolds.
For now, here's Gwyneth:
[Photo: ABC]