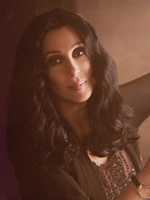 Cher and the Academy Awards made for an interesting mix over 20 years ago when she took home a Best Actress Oscar for "Moonstruck." Though it was probably her threads that grabbed more headlines the next day.
This year, the singer is back in the awards mix, though for her vocal talents (which have never been recognized by the Academy, interestingly enough — though I'm not sure there have been many opportunities).  Cher is part of the ensemble of Steven Antin's musical "Burlesque" and belts out the power ballad "You Haven't Seen the Last of Me" at a key moment in the context of the film.  Cha-ching.
Not only that, the song was also written by Dianne Warren, who has been nominated for six Academy Awards (going all the way back to "Nothing's Gonna Stop Us Now" from "Mannequin").  And she has yet to win.
"Burlesque" and "Country Strong" are the only two proper live action musicals in the mix this year.  And both, interestingly enough, are Screen Gems releases.  Of course, Disney will have its contenders from the animated front, but one has to wonder whether one of these two films can score given the voting procedures.
Have a listen to "You Haven't Seen the Last of Me" below, and as always, keep up with the original song race via our dedicated page here.
[display_podcast]
[Photo: Screen Gems]