Actor — and as of late, filmmaker — Ben Affleck makes his way to a cozy corner of Santa Monica's Casa Del Mar hotel restaurant. He's coming from a "Dad's event" at his daughter's school, he says, propping his feet up on a nearby chair.
Currently shooting Terrence Malick's latest film in Oklahoma, the multi-hyphenate has a window for awards season publicity and Warner Bros. seized the opportunity. Affleck's second directorial effort, "The Town," has kicked up enough buzz to legitimize an all-out Oscar push, and judging by most reactions to the film, it could be an effort well-rewarded.
I pass along one such reaction — from actor Robert Duvall, who greatly enjoyed the film — and Affleck's eyes light up. "Wow, really? That's great to hear." He playfully riffs on Duvall's characteristic voice, adding, "He's a spectacular personality. A genius."
That mixture of humility and humor highlights the majority of our conversation. Affleck is as affable as they come. Perhaps it's years of navigating the game and knowing how to put his best foot forward with a journalist, but it rings through with authenticity. He's a guy's guy with a thoughtful charisma that has served him well over the years, but now he finds himself putting it all to use in the director's chair. And while he is very appreciative of the success his latest film has achieved, he notes that he came to it apprehensively.
"It turned into something that I was really interested in and started as something I was really wary of," he says. "I really liked [Chuck Hogan's novel, "Prince of Thieves"], but I was a little bit concerned that I was going to be the Boston crime movie director and get sort of pigeonholed in that. But I looked at the book more closely and it seemed I had a shot to work with a lot of really interesting actors, because there's a broad set of roles to play. I also thought it was an interesting challenge just doing a heist movie and try to fuse that with themes that I was interested in, like children paying for the sins of our parents and how our environment really shapes us more than we realize and what it means to change your life, really step outside your life and change it."
Stepping outside of your life and changing it is clearly something Affleck can speak to. After a number of small roles on screen in the early 1990s, he and childhood friend Matt Damon broke out big when they sold their original screenplay "Good Will Hunting," which eventually brought them a pair of Oscars. But while Damon's career took off firing on all cylinders, Affleck's was bogged down by dubious commercial projects that did well at the box office but consistently missed with critics.
A shift started to occur a few years ago. Affleck began taking different roles in films like "Hollywoodland" and "State of Play," less commercial "paycheck" (forgive the pun) efforts than opportunities to stretch as an actor. But the biggest change was his foray into directing, which yielded the Dennis Lehane adaptation "Gone Baby Gone" in 2007.
"Directing is satisfying because you have more control over the experience, how the story gets told," he says. "As an actor it can be frustrating because sometimes, if you're lucky, you work with someone like Terry [Malick], and if you're not, you're working with somebody who you're maybe at cross-purposes with or may have a more difficult time with, and there's only so much you can do about that. Ultimately, it's a director's medium. It is a very good feeling to be able to succeed or fail on my own merits. I have these ideas, this is how I think I can express them, this is the stuff I want to do filmically, this is how I want to score the movie, mix the movie, cut the movie. Maybe it'll work, maybe it won't, but it's very thrilling and satisfying to feel like I'm going to have a chance to try my hand at this."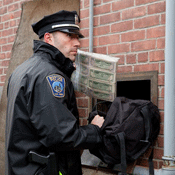 With "The Town," Affleck says he saw an opportunity to wrap those themes that interested him inside a film that had more conventional genre elements.
"It was scary but it was also interesting," he says. "The robbery aspect of it felt specific rather than being just sort of a generic spies do 'x' or robbers do 'y,' it was guys who were criminals in this one particular neighborhood and this is why they got this way and this is how they operated. That kind of research meant a lot to me. And the research is really what informed some of my favorite stuff in the movie, the little details and anecdotes. I also have a fondness for urban environments, particularly in the northeast. Those people, that world has really informed the three movies that I've written on, 'Good Will Hunting,' 'Gone Baby Gone' and this."
"The Town" was a big step forward for Affleck, he says. It's "bigger in every way," broader in scope with a wider ranging cast and action set pieces. But he says he learned with his directorial debut that taking time to shoot dramatic scenes pays dividends and he applied that here.
"There's a tendency to move rather quickly through that stuff and to accept a certain level of work," he says. "In 'Gone Baby Gone,' because I was nervous about what I would be able to do, I gave myself some extra time. I realized that having that amount of leeway is helpful. Here I tried to create a movie where the camera and the director stayed out of the actors' ways when it was really performance imperative, and to do the stylistic stuff when it wasn't going to get in the way of things performance-wise."
Nevertheless, he isn't willing to take much credit, he says. The crew he assembled is top notch across the board and he is clearly humbled by the work put in by every element of the process.
"I got lucky," he says. "Anybody who pays attention to movies can see that the same names keep winding up on the really good movies, so you know who they are. The difficult part is getting them to work with you. I just begged."
Cinematographer Robert Elswit, film editors Dylan Tichenor and Christopher Rouse (who Affleck knew through Damon and came in to help with the massive amounts of footage that had been shot), stunt coordinator Gary Hymes, second unit DP Alexander Witt and production designer Sharon Seymour are a few of the names he singles out.
"You definitely stand on everybody's shoulders when you make a movie," he says, "so you've got to find the right shoulders to stand on. That's a big part of it, knowing who to steal from creatively, knowing what people to hire technically. Gus Van Sant always told me and Matt that he thought directing was 90% casting. And I also got lucky because I had actors who were great, so I'm not someone who's going to sit around and try to take a lot of credit for a success because there's so many people that did a great job on this movie."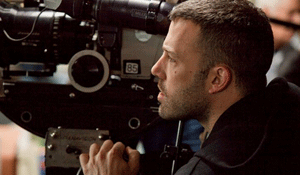 He says it's an obvious balance, mixing directing in with writing and acting. And of course, he wouldn't trade working with Malick for anything. But there isn't one particular aspect of the process that he thinks comes more naturally. In fact, he was brought up to consider it all part of a mixture of equally important elements and has always felt a need to understand every step.
"The acting school that Matt and I and my brother [Casey Affleck] and others went to always kind of pushed it all together," he says. "You would improvise something as an actor and then you would write down the parts that worked and then you would put that back together, write it out as a scene and then perform it for the class. In effect, you had written, directed and acted that, but it all felt like one thing. And that's how I see it. I would hate to only have to do one, and it would take me a long time to answer the question, 'If you had to pick, which one would you do.' But I see them as really and truly parts of the same whole."
Speaking of Damon, I took to Twitter for some reader questions before the interview. One such question is likely something Affleck is often asked: Are he and Damon planning on working together again in the future?
"There was something we almost did that sort of fell apart," he says. "We've been talking about doing a couple different things. The problem with Matt is that he's so busy that we're always saying, 'Oh, we should do this,' or 'Let's do that' or 'How about this idea,' but then the Coens call you or Scorsese calls you and it's like, well…"
With a smirk he adds, "I really feel like as a director and a writer I'm firmly in a back seat to those guys. But yes, the answer is I think we will. Luckily we don't have that desperate thing of having to do something. I think that's how a lot of bad work gets done. So we'll wait and we'll see what the right time is. He was working on something with my brother and they said, 'Well, would you direct it,' then that didn't happen, so it's one of those things where you've got to wait for it to be right for everybody, and given everyone's schedules, particularly Matt's, that's hard."
Damon has also been thinking about directing for some time. And Affleck seems to think he'll take to it like a duck to water.
"Matt is honestly a great director who hasn't directed a movie yet," he says. "He's extremely smart about movies. He really understands how to make a scene work. He has really unique ideas and he has the ability to see a movie from the audience's point of view. I think that's what makes him a great writer and it's what's going to make him a great director. He really gets that perspective, and it sounds obvious, but it isn't. For a guy who's made a lot of art movies, he's got a very strong sense of satisfying an audience in a broad and interesting way.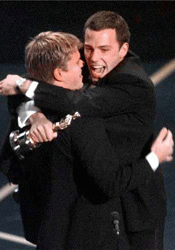 "He has one script that he was talking about somebody developing but, again, I think Matt's directing career is being pushed back because his acting career is so strong. So it's a bit of, 'Maybe next time, maybe next month, I'm going to go do this Cameron Crowe movie, so maybe in the spring I'll put that thing together.' If he was a little bit less successful as an actor, you would already see, I think, two really good movies that Matt had directed. But look at the directors the guy's worked with: Eastwood, Coen brothers, Scorsese, Spielberg, Gus Van Sant, Greengrass, Terry Gilliam, I think Billy Bob is a really good director, Robert Redford, look at that list. He's picked up a lot from all those guys and it's one of the reasons I think he's so smart about all this stuff. If you could buy stock in Matt Damon's next movie, I would do it."
Finally, another reader wanted to know what writers have influenced Affleck's storytelling style:
"Quentin [Tarantino], obviously, is a big one," he says. "I think he's a big one for anybody who started making movies at a certain time in a certain way kind of outside the studio system. I don't liken myself to Quentin in any way, but he's somebody that I admire. The really good writers out there, the Eric Roths, the Steven Zaillians, Zaillian is magnificent. The adaptation Zaillian did for 'Searching for Bobby Fischer' is one of the best I've ever seen.
"Writing is tricky because unless you're one of those guys or you're the Coens, for example, who are unbelievable writers, it's hard to know who did what. My friends, [Alec] Berg, [Jeff] Schaffer and [David] Mandel, who are really great comedy writers and who wrote on 'Seinfeld' and 'Curb Your Enthusiasm,' are guys I look up to and whose work I really like. I loved all the Iñárritu movies that Arriaga wrote.
"And Kevin [Smith]. There's nobody writing and directing movies who is more a writer first in the best way than Kevin. He really feels the written word tells the story and that the rest of the movie is about serving that. I'd love to work with Kevin again. He's one of the guys who is really doing his thing, true auteurism. He believes in his vision and makes movies that are his and I think that's something to be really respected."
Affleck can also be seen this year in the modest but moving drama "The Company Men." The Malick film is currently slated for a 2012 release, but we know how that goes. For now, it's all about "The Town," a film that could be singled out as one of the year's best by an industry that has really responded to its blend of drama and genre.
We'll see how things play out on the circuit…
[Photos: Hollywood East Rumors, Warner Bros. Pictures, SheKnows.com]