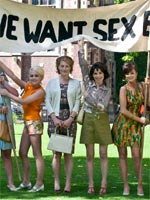 The delicate folks at the MPAA have come in for a right old bollocking in the past few weeks, and deservedly so. First came the furore over the baffling 'NC-17' rating they awarded "Blue Valentine" — a lemon of a situation that Harvey Weinstein, to judge from the steamy poster unveiled yesterday, has decided to make into lemonade.
Another of Weinstein's babies, "The King's Speech," also got the brunt of the ratings board's conservatism when it was slapped with an 'R' for a brief torrent of narratively contextualized four-letter words — despite having a fair claim to being the most mild-mannered prestige drama of the year.
We all know that bad things, like Kardashian sisters, come in threes, so we didn't have long to wait before the next eruption over MPAA idiocy, and once more, the film at the center of it is a calculatedly inoffensive true-life Britpic. Despite having the kind of cheery inspirational message that young girls and their grandmothers alike can appreciate, feminist dramedy "Made in Dagenham" has received an 'R' rating for "language and brief sexuality," referring respectively to a scattering of f-words and some gentle, clothed innuendo.
The filmmakers may as well have stuck with the original, racier title of "We Want Sex," for all the good their attempts to tone things down did them.
It's a harsh verdict on an adult-targeted but nonetheless family-friendly film, and "Dagenham" producer Elizabeth Karlsen has made no bones about her dismay at the rating. Through the website Women & Hollywood, she issued the following statement railing against the MPAA's decision, including "The King's Speech" in her cause:
As a mother of three teenage girls, the youngest of whom is 13, I am both deeply saddened and bewildered that the censors dictate that it is inappropriate for my 13 year to see a film about a decisive moment in women's history, the fight for equal pay, full of positive role models.

There are so few films about women, so few films where women are not simply minor players, 'eye candy' or objects of violence in a story about men. 'Made In Dagenham' is one of the few and it has been embraced for this very reason. I can not believe that any parent, grandparent or teacher would prefer their 13 year old daughter to see a film like 'Saw' rather than 'Made In Dagenham'. There is a handful of swear words in the film, but none of it is used in an abusive manor [sic]. It is there as an element of authenticity reflecting the period and people.

Bad language in films must surely be considered by the censors in the context of the story and the images used to tell that story. It is absurd that stories like 'Made In Dagenham' and 'The King's Speech' are barred to children under 13 in favour of violent films and when I say violent I mean extremely not moderately violent. I take the censors' view as an indictment of my parenting skills. I know that 'Saw' is absolutely not the sort of film I want my young daughter to see, but I know that 'Made In Dagenham' and 'The Kings Speech' are two films that she absolutely should be seeing. They are both positive, empowering, educational, enlightening and entertaining films, beautifully executed, about people finding a voice and making the world a better place. How can that be a bad thing for a society which deems itself civilised?
The article doesn't mention whether the film's producers will be appealing the rating, making the cuts necessary to earn a 'PG-13' or simply accepting their lot — the last of those options, I presume. But this conversation will keep resurfacing until the MPAA reassesses their standards and accepts, among other things, that the simple slur "fuck," shorn of context, can't be deemed a ratings deal-breaker anymore.
[Photo: Sony Pictures Classics]