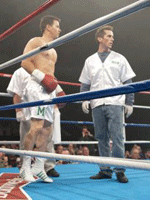 I decided to come home and give "The Fighter," which saw its world premiere at a "secret screening" at AFI Fest tonight, some real thought rather than rushing back to review.  How novel.
Given the amount of press on hand, one imagines Paramount publicity was besieged with ticket requests following the last minute announcement of the screening yesterday morning, but the film played well to a largely public audience. And by "well" I mean they were kind of swinging from the rafters, as David O. Russell's film is a mainstream crowd-pleaser through and through.
There is much to admire about the film. For starters, there's a unique energy that's palpable throughout, owed largely to the camera work of DP Hoyte Van Hoytema and, especially, film editing from Pamela Martin. The fights were filmed in a retro early-90s video vein, duplicating the original HBO telecasts of "Irish" Micky Ward's matches, and they have an energy that crackles. There is the sense of sterile choreography here and there, but for the most part, these scenes are quite uplifting and stand out against the usual boxing sequences we've seen over the years.
Performance-wise, Mark Wahlberg (who nurtured this project for a number of years) is capable if properly unremarkable in the somewhat reserved role of Ward. Melissa Leo, meanwhile, gets the showy role as mother to Ward and his brother/trainer Dicky Eklund (Christian Bale), and for the most part, she nails it. There are, however, a number of moments that dip into camp as it pertains to her character and Ward's family situation, and this often took me out of the film early on.
Amy Adams offers a tough performance of steel-eyed sincerity that is probably my favorite of the two supporting actress portrayals, but nevertheless, I think it's safe to say both have clear shots at nominations.
The star of the show, however, might well walk away with the Oscar for Best Supporting Actor this year. Christian Bale is mercilessly precise, committed and authentic as Ward's crack-addicted half-brother, Dickie Eklund, a former next-big-thing boxer who blew his chances and lives life vicariously through Ward. The film mostly concerns itself with that sibling relationship and finds its most profound notes of grace therein, and Bale is really something to behold throughout.
I'd say we're looking at a solid contender for a Best Picture nomination. The film played like gangbusters and I've heard from numerous critical minds responding likewise, so erase all doubt. "The Fighter" is here to play, and what a coup for Paramount to have this dual reveal to the populace and industry alike.  It was smart to eschew the typical festival strategy.  This is a film meant to hit and hit big.
A few other reactions:
Anne Thompson at Thompson on Hollywood
Gregory Ellwood at Awards Campaign
Pete Hammond at Deadline
[Photo: Paramount Pictures]