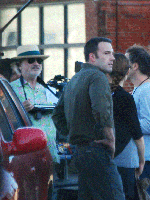 I'll be posting an interview with Ben Affleck later this afternoon, but as I transcribed and put the pieces in place, it became clear to me that including much on the new Terrence Malick film would be pushing it length-wise.  I didn't want to keep it all to myself, however, so I thought I'd share Affleck's brief thoughts on working with a legend down in Oklahoma:
All I can say is the guy is definitely really private and I don't want to betray any of that.  Some people don't mind but he's not a guy who likes publicity.  What I will say is that it's for sure a master class.  I've worked with a lot of different directors and have always tried to look for something to learn from everybody.

You don't have to look with Terry.  Everything you're hearing and listening to it feels like, 'God, I never thought of that' or 'I wouldn't have done that' or 'I've never seen it that way.'  It's like the best class you had in college or something, where it's so wonderful to be there, it feels like you're opening up your mind to see the world in different ways.  And I've probably learned more from him now because I've directed two movies and I understand sort of the context, I guess.
More after the jump.
I've been an actor for a little while now and so I can really appreciate the difference between him and another guy.  I can really understand how difficult what he's trying to do is and admire how he's doing it.  It's humbling.  There's definitely moments where you just think, like, 'I will never be that.'  But still, it's great to stand next to the guy and be privileged to hear him talk about how he sets up a shot.  It's an incredible experience and I'm learning a great deal.
[Photo: Osage News]