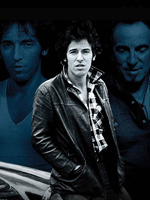 After sitting there, waiting patiently on my DVR for the past month, I finally got around to "The Promise: The Making of Darkness on the Edge of Town" last night. The film, which tells the in-studio story of Bruce Springsteen and the E Street Band's follow-up to the gargantuan success of "Born to Run," debuted at the Toronto International Film Festival in September and bowed on HBO last month.
It's difficult to separate yourself from something that is tailor made for your sensibilities. I'm a massive Springsteen fan. My earliest memory has something to do with "Born in the USA" and playing in the backyard of my babysitter's house in rural North Carolina sometime in 1984. I came around to really appreciating his work in high school and I've seen him live six times in the last decade (three times in NC, twice in LA and once in London). Suffice it to say, I was bound to be interested in this film.
With that caveat out of the way, let me state the obvious: this is a must-see for Boss fans. And it's a must-see for music fans of any stripe, really, as it offers a unique glimpse inside the creative process of a legend. But it is also profoundly indicative of the cinematic process.
Watching Springsteen move heaven and earth to get the sound, vibe and overall atmosphere he wanted out of the various moving parts, I couldn't help but be reminded of a filmmaker summoning the elements of production and streamlining them into a focused beam of thematic purpose. The work ethic, artistic will and discipline revealed in interviews with various talking heads (from band members Danny Federici, Clarence Clemons, Steve Van Sandt and Max Weinberg, among others, to producer Jon Landau and former manager Appel to, of course, The Boss himself) ought to be inspiring for any artist aware of the creative struggle.
Then there is the point of the album: a cinematic experience, meant to conjure imagery at every turn. When Charlie Plotkin (who mixed the album) discusses how Springsteen explained certain elements to him, the parallel is made even clearer. "'Let me tell you something about this song,'" Plotkin remembers the singer/songwriter saying to him. "'Imagine you're in a movie theater. On the screen is two lovers having a picnic. Then the camera shock cuts to a dead body. Every time this song comes up on the album, this song is that dead body.'"
Just a random note: One other thing I was thinking of watching the film was the idea of following a success like "Born to Run" and how petrifying that notion could be. I thought about James Cameron, who took over a decade in between "Titanic" and "Avatar" to put his finger on the pulse of what needed to be done in cinema. How interesting that Cameron and Springsteen have longtime producer collaborators who share the same name: Jon Landau.
Anyway, it's a wonderful piece of work from director Thom Zimny (who has worked on a number of live performance releases with Springsteen in the past). Give it a look if you get a chance. I don't know of any future HBO airings right now, but there is a big 3 CD/3DVD set of the film and album coming out next week. Pricey, but I'll have to spring for it.
[Photo: Home Box Office]