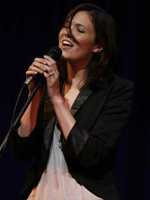 Disney always does well in the Best Original Song category and this year should be no different.  We've already covered Randy Newman's latest entry from the "Toy Story" franchise but today we showcase one of the many tracks from the upcoming film "Tangled."
When I wrote up the film last month I noted that the strongest play at a nomination would have to be "I See the Light," and I still feel the same.  In classic Disney form, the film fits a certain parameter, coming toward the end of the second act just as our heroes (voiced by Mandy Moore and Zachary Levi, who also sing the song) begin to connect romantically.
It's a lovely tune, well-used.  But it's obviously worth noting the presence of Alan Menken on this film.  The 18-time nominee (and eight-time winner) was last recognized in 2007 for three songs from "Enchanted" and he'll get at least one nod, maybe a couple, for "Tangled."
Glenn Slater, who last contributed to Disney's "Home on the Range," wrote the lyrics of the songs while Menken created the music.    Other tracks — like "Mother Knows Best" or "When Will My Life Begin" — could show up, but I'd place my chips here first.
Have a listen to "I See the Light" below, and as always, keep up with the original song race via our dedicated page here.
[display_podcast]
[Photo: LA Times]