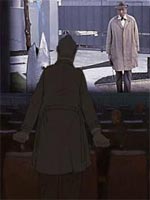 Almost two weeks ago, I mentioned an unfortunate charge of "trademark infringement" being levelled against Sylvain Chomet's animated wonder "The Illusionist" by the purported rights-holders to the 2006 Edward Norton film of the same title, who somehow felt that sharing a title and a magician protagonist amounted to a "Single White Female"-style violation.
I called the claims ludicrous (or less delicately, "bullshit") then, and happily, it looks like one Judge Dolly M. Gee agrees. The Hollywood Reporter reports that Judge Gee has thrown the case out of court, citing the First Amendment to defend the newer film's right to its title, and dismissing the rest as "weak":
According to Judge Gee, the trademark enjoyed by Illusionist Distribution is "weak," describing a movie about an illusionist rather than its particular film. She agrees with Sony that a wide variety of consumer products employ the term "illusionist," including another 1983 film, 14 books published since 1952, and thousands of magicians who perform under that description.
Furthermore:
Judge Gee also doesn't find much similarity between the two same-named films. "Although both products are movies about illusionists, they are so different that there is little chance that consumer confusion will ensue," she writes.
So, common sense rules for a change. God bless you, Judge Dolly M. Gee — you're even more awesome than your name. As for "The Illusionist" (2010 edition), go forth and prosper.
[Image: Sony Pictures Classics]