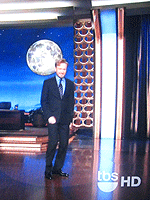 Conan O'Brien's foray into basic cable (airing on TBS) settled on an applicable show title two months ago. Because "Conan" is just that, the host, personality — and perhaps for the first time ever — person (rather than caricature) unfiltered and freely spirited.
On tonight's premiere episode — following a humorous pre-taped open featuring an homage to "The Godfather" — O'Brien paced in front of a camera panning to catch up with his energy as he delivered an opening monologue full of crisp, precise jokes and uncharacteristically authentic energy. But there was an unmistakable ease.
O'Brien has always been associated with unusual, sometimes esoteric humor. But once self-awareness became a part of the act early on, it quickly cannibalized his material. But while he carried David Letterman's "Late Night" baton well, the audience for his next gig — an ill-fated nine-month stint as host of "The Tonight Show" — clearly did not take to his brand quick enough for NBC suits.
One hopes that the somewhat more contained, and therefore more refined, atmosphere of tonight's show wasn't a hasty reactionary measure, but I saw something else. I caught a whiff of maturity. But it wasn't a stuffy maturity by any means. O'Brien was free in his space on a Warner Bros. sound stage, moving around it, reaching out to the audience and probably giving the show's director a bit of a workout cutting to his action.
I was actually reminded of the same atmosphere that drove David Letterman to his best work when he left NBC for CBS in 1993. At the risk of placing too much on one installment, O'Brien seems to have grown into the next stage of his career with a confidence he frankly seemed to lack on "The Tonight Show" but was always part of the joke on "Late Night." Jimmy Vivino and the Basic Cable Band even seemed perfectly complete without Max Weinberg. They, too, have grown into this next stage.
But none of that's going to stop O'Brien from opening the show with a joke insulting the TBS viewership, something he might not have gotten away with so easily at NBC.
The only criticism would be the host's participation in a musical number with his friend and first musical gust on "Conan," Jack White. (Other guests included actors Seth Rogen and Lea Michele.)  After seeing O'Brien belt out the verses of "Free Bird" with Will Ferrell on his recent farewell, it could be seen as a false note in the establishment of a next-level Conan…if it's a one-off, that is. If it's indicative of a new direction with a more involved host leaping beyond the duties of couched questioner and occasional (expected) material-specific participation, then it could be a next-level variety show experience, too.
Nevertheless, it's nice to see Andy Richter on the couch, a throwback to the early days of "Late Night" and a comfortable reminder of O'Brien's progression. We'll see where it all goes from here.
[Photo: TBS]