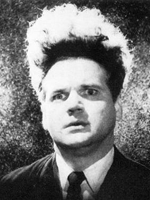 This year's AFI Fest ("presented by AUDI," as the literature keeps reminding us to call it) has felt something like a non-event so far this year.  I can't put my finger on why, other than the usual sense of been there, done that as it pertains to films seeing their North American premieres.
I've skipped a number of Galas and parties already.  What can possibly be gleaned over a few hors d'oeuvres and some white wine?  I'd like to attend Friday's premiere of "Black Swan" and give it another look, but I expect to be in a car on the way to some seclusion with my fiancee this weekend as we quietly celebrate our birthdays (hers Friday, mine Monday) away from our separate frays in Los Angeles and San Francisco.
But when I picked up my credentials Saturday over at the Roosevelt Hotel, I offered a quick glance at the schedule and decided to watch something for me (which, clearly by these words, has become "for work," but it didn't feel that way at the time, and that's a welcome departure this time of year).
Somehow I managed to make it through film school without ever seeing David Lynch's "Eraserhead." I know.  But it's just one of those films, perhaps "the" film, that has always sat at the top of my "to see" list and never made its way to my DVD player or Netflix queue (actually, I think it's in my instant watch batch, but again, it just never happened).  Maybe I've just waited to be in the right frame of mind, because I knew, peripherally, what I was in for.  Whatever the reason, I just never saw the film.
And what's more, I've never sought out any information on it.  I've glossed over this or that in the expected readings and research when you write about movies, but I remained kind of removed from specifics.  Whenever it was going to happen, it was going to be a virginal experience.
So when I walked out of the Roosevelt and saw on the schedule that the film was set to play at the Egyptian Theater in 15 minutes, I looked at is as an opportunity to sit back, take in a film (that probably should be seen on the big screen anyway) and leave the season's insanity at the door for 90 minutes.
It was glorious, in ways only Lynch can achieve.  I find myself at odds with most on the virtues of his work.  For instance, I prefer the audacity of "Lost Highway" and the heartfelt mundanity of "The Straight Story" to the generally accepted "great" works like "Blue Velvet" and "Mulholland Drive." I think 2007's under-appreciated "Inland Empire" might be his best work to date, and I've always had a soft spot for "Wild at Heart."
With "Eraserhead," we get the pure, unfiltered id of Lynch painted broad and vibrant.  It's most intriguing to see the seeds of his later work being planted here, specifically composition.  Lynch has always had an eye for capturing still, unsettling frames that give the audience a curious point of view and way into the imagery.  I don't fully know how to explain what I'm talking about, but it's a trademark that stands out then and now.
Lynch is serving as the first-ever guest artistic director of the festival this year (he's a former AFI student), having selected a sidebar of his favorite films to screen throughout.  One of them, "Sunset Boulevard," played immediately after "Eraserhead" as part of a double feature (though one wonders whether "Mulholland Drive" wouldn't have been a better pick, where he was clearly channeling a bit of Wilder's film).  It was a great turn-out and Lynch gave a brief intro before answering some Twitter questions in between films.  I've got the audio below.
Anyway, I'm glad I made the time for this experience.  You get so few opportunities to properly lose yourself in filmmaking when you find yourself on the perch reporting on it.  I'll freely admit this as something that gets further and further under my skin each and every year.  But I cherish these opportunities when I find them.  So maybe AFI Fest hasn't been such a "non-event" for me this year after all.
[display_podcast]