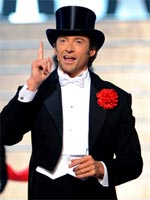 With the season now unshakeably upon us, it's time to dust off the annual conversation topic of who should host the upcoming Academy Awards ceremony. I am prompted to do so, of course, by Deadline's recent scoop that 2009 host Hugh Jackman — the first choice of new Oscarcast producers Bruce Cohen and Don Mischer — has turned down the gig, owing to a scheduling conflict with the shooting of of "Wolverine 2."
Many will be disappointed by this news, given that the Jackman-hosted telecast was one of the better-received of recent years. As one of its few detractors, I'll admit to feeling relieved: Jackman's song-and-dance schtick was amiable enough, but he lacked the comic zeal I prefer in an Oscar host.
To be fair, the balance between comic and cuddly is a difficult one to strike at the Oscars. There's ample room for error on either side of the beloved Billy Crystal school of sweet-and-sour satire: Jackman played it too safe for my liking, but neither do I want to see an encore of Chris Rock's hostile, room-cooling barbs. The Academy Awards, as much as we might like to mock them, are effectively the industry's prom night, and the tone should be appropriately celebratory.
As well-earned as Crystal's reputation as the consummate Oscar emcee of the modern era is, I must say that, in my 20 years of watching, no host has personally delighted me more than Steve Martin. His two solo hosting gigs — of the 2000 and, most trickily, the war-shadowed 2002 ceremonies — were masterclasses in this department: the humor as dry and sparkling as expensive champagne, yet underpinned by a genuine affection for the people and business being honored that night.
Unfortunately, Martin came unstuck this year, hosting the show with Alec Baldwin in a move that looked like a slam-dunk on paper, but didn't work in practice: Baldwin, unseasoned in this sort of big-ticket showmanship, was palpably nervous, and while Martin picked up some of the slack with his typical sleek timing, the chemistry wasn't there. (Neither man, it should be said, was to blame as much as the inert, even sloppy, production of the show itself.)
I suspect the generally tepid response to the Martin-Baldwin Oscars has put the producers off going the dual-host routine for a second straight year, but I suggest they stick with it — and with Steve Martin. Here's where I launch into my now-annual call for Martin to host the ceremony with Tina Fey: a pairing that provided the highlight of the 2008 ceremony, where their kooky-deadpan presentation of the writing awards (see the video below if your memory needs jogging) provoked more laughs than the rest of the ceremony put together.
Fey, it should be said, was also the joint MVP of this year's ceremony: cutely teamed with Robert Downey, Jr. to present (again) the original screenplay award, she socked a second straight audition for the big job with her blend of unpretentious chutzpah and quick-on-her-feet delivery. She's earned a shot at it, and given her current popularity, one could easily make a case for her hosting alone. But we know she plays well off Martin: her warmth would counteract his archness, and his big-screen profile would bolster her still (mainly) TV-sized persona. And the boy-girl dynamic could really freshen things up.
Others will likely bring up the now-regular suggestions of Justin Timberlake and Neil Patrick Harris — though the former's alliance to one of the likely frontrunners in the race would be problematic, and the latter's rep is tainted by his awkward involvement in the last ceremony's opening number. For my money, the most successful Oscar emcees have a measure of established film-industry stature — but before you go nominating well-oiled charisma machines like Downey Jr. or George Clooney for the role, I'd venture that it's better to have a host who can generate his (or her) own material.
So I stand fast on this: Martin and Fey FTW. Who would you like to see working the stage come February 27?
[Photo: E! Online]