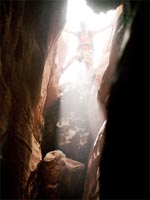 • Guy didn't much care for "127 Hours." That got you talking.
• Happily, Kris did, and got talking to director Danny Boyle and screenwriter Simon Beaufoy.
• The British Independent Film Award nominations threw some surprises into the mix, handing scads of noms to "The King's Speech"… and "Kick-Ass."
• Chad's Life Without Oscar column eased into the late 1980s, showcasing one films on either side of the Hollywood border.
• Tech Support took on the the ever-unpredictable (and seemingly rather sparse) Best Makeup category.
• Guy closed out his coverage of last month's London Film Festival with a list of the fest's standout films.
• Interviewed out of the festival, meanwhile, were two names essential to US indie buffs: actress Patricia Clarkson and writer-director Aaron Katz.
• We began our annual habit of spotlighting original songs in Oscar contention, including tunes from "Waiting for Superman" and "127 Hours."

• Still on "127 Hours," we were given exclusive access to a video on the film's cinematography.
• Big trailer debuts this week included "The Way Back" and "The Illusionist" — the latter (with our endorsement) was also one of the week's poster unveilings, along with a roundly slated one-sheet for "The King's Speech."
• Once more, Anne and Kris put a bow on the week with another episode of Oscar Talk.