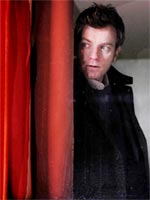 Dear European Film Award nominating members,
You seem to have suffered some form of collective amnesia in recalling the last 12 months of European cinema. So much so that you had to resort to nominating an Argentinian-Spanish co-production (that, let's face it, everyone thinks of as Argentinian) as one of the continent's finest this year, despite mentioning it in no other categories.
Allow me to help you. The following are all European films superior to the six you shortlisted in your top category: "Another Year," "The Illusionist," "How I Ended This Summer," "Kawasaki's Rose," "White Material," "Dogtooth," "Certified Copy," "Mysteries of Lisbon," "Four Lions," "The Mouth of the Wolf," and so on. And hey, I'm not that high on "I Am Love" either, but are you really saying nothing at all stuck out about it to you? (You only have four cinematography nominees, by the way. Just a thought.)
(More thoughts, and the full list of nominees, after the cut.)
I know you've seen the first four on that list, since you grudgingly found room for them in other categories — though I'm not sure Mike Leigh should be all that appreciative of the recognition for his lead actress and composer, when you think even that schlocky Europudding "The Concert" had a better screenplay, or that Sylvain Chomet should be content with an inevitable cakewalk victory in the animated race when minor efforts like "Soul Kitchen" are allowed to play with the big boys. (Your music committee might want to check out Chomet's score by the way, or least offer an explanation as to how the sledgehammer-subtle strains of the hideous "Loose Cannons" are more worthy of notice.)
As for the rest, let's be kind and say that you haven't seen them — though Juliette Binoche's peak-form, Cannes-awarded performance in "Certified Copy" is a doozy of a turn to miss, and you might feel a tad silly when you catch up with the masterly formal strokes of Claire Denis's latest and Yorgos Lanthimos's breakthrough, and remember that the European film you apparently got most excited about in 2010 was a neat, atmospheric but less-than-revelatory Roman Polanski potboiler.
Anyway, laying aside my personal vexation for a moment, "The Ghost Writer" leads the list with seven nominations, and will likely cruise to victory at the EFA ceremony on December 4. After being named the year's best by FIPRESCI, this consistently underestimated thriller just continues to surprise. As little bearing as these awards have on the American season, I'm feeling ever more tempted to throw it in as a dark-horse Adapted Screenplay prediction.
The full list of nominations:
Best European Film
"The Ghost Writer"
"Honey"
"Lebanon"
"Of Gods and Men"
"The Secret in Their Eyes"
"Soul Kitchen"
Best European Director
Olivier Assayas, "Carlos"
Paolo Virzi, "The First Beautiful Thing"
Roman Polanski, "The Ghost Writer"
Semih Kaplanoğlu, "Honey"
Samuel Maoz, "Lebanon"
Best European Actor
Jakob Cedergren, "Submarino"
Elio Germano, "Our Life"
Ewan McGregor, "The Ghost Writer"
George Pistereanu, "If I Want to Whistle, I Whistle"
Luis Tosar, "Cell 211"
Best European Actress
Zrinka Cvitešić, "On the Path"
Sibel Kekilli, "When We Leave"
Lesley Manville, "Another Year"
Sylvie Testud, "Lourdes"
Lotte Verbeek, "Nothing Personal"
Best European Screenwriter
Jorge Guerricaechevarría and Daniel Monzón, "Cell 211"
Radu Mihaileanu, "The Concert"
Robert Harris and Roman Polanski, "The Ghost Writer"
Samuel Maoz, "Lebanon"
Best European Animated Feature
"The Illusionist"
"Planet 51"
"Sammy's Adventures: The Secret Passage"
Best European Documentary
"Armadillo"
"Nostalgia for the Light"
"Steam of Life"
Best European Cinematographer
Barış Özbiçer, "Honey"
Pavel Kostomarov, "How I Ended this Summer"
Giora Bejach, "Lebanon"
Caroline Champetier, "Of Gods and Men"
Best European Editor
Luc Barnier and Marion Monnier, "Carlos"
Hervé de Luze, "The Ghost Writer"
Arik Lahav-Leibovich, "Lebanon"
Best European Production Designer
Albrecht Konrad, "The Ghost Writer"
Paola Bizzarri and Luis Ramirez, "I, Don Giovanni"
Markku Pätilä and Jaagup Roomet, "The Temptation of St. Tony"
Best European Composer
Gary Yershon, "Another Year"
Alexandre Desplat, "The Ghost Writer"
Ales Brezina, "Kawasaki's Rose"
Pasquale Catalano, "Loose Cannons"
Best European Discovery (FIPRESCI Prize)
"The Double Hour"
"If I Want to Whistle, I Whistle"
"Lebanon"
"Nothing Personal"
"When We Leave"
Best European Short
"Amor"
"Diarchy"
"The External World"
"Hanoi, Warsaw"
"Here I Am"
"Joseph's Snails"
"Lights"
"The Little Snow Animal"
"Maria's Way"
"Out of Love"
"Rendezvous in Stella-Plage"
"Stay, Away"
"Talleres Clandestinos"
"Tussilago"
"Venus vs. Me"
[Photo: Summit Entertainment]