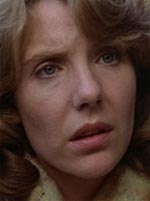 It's odd to think that younger readers may principally recognize Jill Clayburgh, the New York City-born actress who passed away yesterday after a long battle with leukemia, from her Emmy-nominated role in TV's "Nip/Tuck" — where she played Bobbi Broderick, a vengeful victim of unsuccessful liposuction, done in the hope of securing a job ahead of younger, thinner rivals.
It was a sharp, upsetting performance, all the more haunting because it was easy to imagine Bobbi as the soured middle-aged self of Erica Benton, the unaffected, sexually liberated divorcée she played, to career-making effect, in Paul Mazursky's 1978 romantic dramedy "An Unmarried Woman."
The film is rarely spoken of today, but Clayburgh's immense performance, balancing sweetly goofy comedy with stabs of untempered pain and anger, was something of a feminist touchstone for the depiction of "real" women in American cinema — she won Best Actress at Cannes for her efforts, and was nominated for an Oscar that unwisely went to Jane Fonda instead.
Clayburgh carved a niche for herself as the go-to actress for put-upon contemporary female characters in such films as "Starting Over" (landing her a second consecutive Oscar nod), "It's My Turn" and "I'm Dancing As Fast As I Can," though neither she nor the films quite matched the heights of "An Unmarried Woman," and her stardom slipped somewhat. In the 1990s, she interestingly took on flipside of that abandoned-wife character, playing instead a middle-class mom who leaves her entirely family without warning, in Bruce Beresford's underrated domestic drama "Rich in Love."
From then on, it was mainly the small screen that beckoned, though she received some notice for her tangy supporting work in "Running With Scissors" (the feature directing debut of "Nip/Tuck" creator Ryan Murphy, plainly a fan of the actress), and will say her posthumous farewell to cinema audiences in the upcoming "Love and Other Drugs."
I encourage you to take this opportunity to seek out "An Unmarried Woman," however — and not just for sentimental reasons. The film now creaks here and there, but there aren't many mainstream Hollywood pictures today that would take such a microscopic perspective to an ostensibly unremarkable female protagonist, or at least one made remarkable chiefly via the nuances and fractures of a single performance.
[Photo: PopMatters]