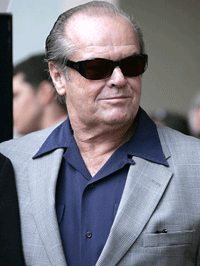 Catch up with the idea behind these weekend posts here.
What a coup it would have been if Jack Nicholson really was the first guest on "Conan."  Shame on Movieline for not catching Andy Richter's joke and getting my hopes up for the actor's first talk show interview in nearly four decades.
Caught up with AMC's "The Walking Dead."  Narratively, familiar.  Aesthetically unique at times but I couldn't settle into it.  It felt like there was no sense of pace.  And I'm getting pretty trigger happy on bailing on shows lately.
I need to catch up on docs.  A stack of them waiting for me when I can ever find the time.  It's pitching season for publicity to say the least.
Speaking of which, coffee with Ben Affleck later today says Warner Bros. is swinging buzz on "The Town" back around and looking for opportunities to stay in the conversation leading up to the film's DVD release.  After that, the season will have its say on the matter.
AFI Fest runs throughout the week.  I should try to catch up with a few titles but the boredom is setting in.  I always struggle for a second win around mid-November (a true sign the season is just too long).  Once Thanksgiving hits and all the films have been seen, that's when it starts to perk up again.  Usually.
And not to be morbid, but I'm dreading a "number three" after George Hickenlooper and Jill Clayburgh.
Anyway before I go, remember last month's Cinejabber column regarding old FYC ads?  Well, check this out.
Anyway, you know what to do.  Open thread.
[Photo: Ask Men]