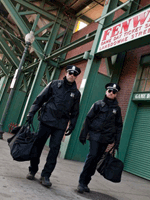 Reader Graysmith alerted me to this yesterday, but it's worth passing along. Ben Affleck's "The Town" will be making its way to DVD and Blu-ray on December 17. The film was released in theaters September 17. That makes it three months to the day between release and home video, and to say the least, an incredibly short window.
I remember Disney's "Alice in Wonderland" having an even shorter window (March 5 theatrical, June 1 home video), but this is more significant because clearly Warner Bros. is angling for prime exposure right in the middle of Oscar season.  And that mid-December stretch is key, bringing the Golden Globe nominations on the 14th and the SAG nominations on the 16th.
"Inception," meanwhile, will be hitting stores December 7, so get ready for the buzz to swing back around on both films.
Getting back to "The Town," I thought this was worth pointing out.  I sat down with Robert Duvall yesterday afternoon as Sony Classsics has made him available for some "Get Low" press once again and, as usual with Duvall, it devolved into a sort of stream of consciousness conversation.  And much of that talk circled around films in play this year.
Duvall is the kind of guy very aware and interested in what films are out there.  He hasn't had a chance to see a number of titles yet but he's very much anticipating "True Grit" and "Black Swan," among others.  He REALLY sang the praises of "The Town," though.  It reminded me of last year when he told me that "The Hurt Locker" was one of the best films he'd seen in years.  Just one guy's opinion, sure.  (But what a guy.)
You'll recall Affleck's film reportedly went over like gangbusters with the Academy.  It remains just the sort of solid (however derivative) effort that could squeeze into this year's 10 if this or that fails to impress.  And positioning the DVD/Blu-ray release in such a prime frame is a good move.  So we'll see.
[Photo: Warner Bros. Pictures]