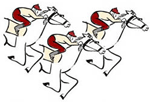 Tom O'Neil has officially taken Gold Derby back.  The LA Times will still sell advertising at a percentage, but the site is Tom's once again and today the site launched with a handsome new design.
There are already a few pieces of content in place right now, like an "Oscar Outrages" segment with Kathy Griffin and an editorial pleading the case for Julianne Moore in supporting for "The Kids Are All Right." He's also brought back the expert picks section, which was really the first of its ilk before The Envelope's Buzzmeter and Movie City News's Gurus o' Gold came along.  Our own Guy Lodge is one of the prognosticative pundits.
As always, the site will not only focus on film awards but also music, television and theater kudos as well.  There's still a lot of filling in to do but it's off to a nice start.  We wish him the best.  Check out GoldDerby.com for more.