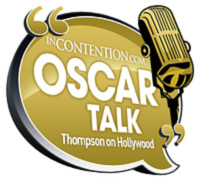 Welcome to Oscar Talk.
In case you're new to the site and/or the podcast, Oscar Talk is a weekly kudocast, your one-stop awards chat shop between yours truly and Anne Thompson of Thompson on Hollywood. The podcast is weekly, every Friday throughout the season, charting the ups and downs of contenders along the way. Plenty of things change en route to Oscar's stage and we're here to address it all as it unfolds.
As we move into November, AFI Fest is heating up, campaigns are in full swing (talent being pitched left and right) and pretty soon I'll be eating turkey and watching "Planes, Trains and Automobiles." Crazy. We had a slightly shorter window this week, but let's see what's on the docket today…
• Opening wide this weekend is DreamWorks Animation's "Megamind," which drew two completely different reactions from Anne and myself. We discuss.
• Anne caught up with Peter Weir's "The Way Back" this week, and she counts it as "extraordinary filmmaking." Finally we can have a back and forth on the film.
• The Hollywood Reporter launched it's new glossy weekly mag this week (all 150 pages of it). Gracing the cover were a handful of actresses in the Oscar race this season. That leads us to a brief discussion of the leading and supporting actress categories and which of those ladies will be in the hunt at the end of the day.
• Anne screened "The King's Speech" to her "Sneak Previews" class this week and got the best response she's ever seen out of that program. We talk further on the film that has to be seen as the frontrunner at this stage.
• And finally, reader questions. We only get to a few this week because Anne had to rush off, but we address the Academy voting process, steam-building vis a vis Robert Duvall in "Get Low" and the best of the leading actor field we've seen so far.
Have a listen to the new podcast below. If the file cuts off for you at any time, try the back-up download link at the bottom of this post. And as always, remember to subscribe to Oscar Talk via iTunes here.
[display_podcast]

Back-up download: Oscar Talk Episode 39