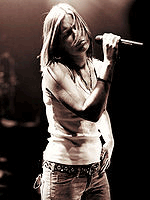 Two years ago composer A.R. Rahman managed to sweep the music categories at the Academy Awards.  One of only two nominations "Slumdog Millionaire" didn't translate into an Oscar was original song "O…Saya" — because the film's other key track, "Jai Ho," won instead.
This year Rahman is back in the mix with the vibrant score for Danny Boyle's "127 Hours," and specifically, the original song "If I Rise."  Dido provides the vocals on the song, which plays sporadically at key moments during the film's climax and finally plays in full over the closing credits.
At the end of the day, this could be a formidable contender in the race for Best Original Song.  It's well-placed in the film and that will go over well when voters sit down and watch all of the contenders in context.  At the very least, that's enough for the track seriously threaten a nomination.
Interesting to note: Music was a defining characteristic of Aron Ralston.  He was a big Phish fan who traveled around the country to see their shows.  But, as James Franco told me, Boyle couldn't bring himself to put the band's music in the film.  To say the least, he's no fan.
But some of it survived.  The shirt Franco wears in the film is a Phish shirt, and there is one point when the character sings a Phish tune.
Have a listen to "If I Rise" below.
[display_podcast]
[Photo: Wikipedia]