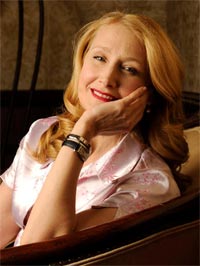 "I'm going to bring back the letter," a flustered Patricia Clarkson announces as she makes her way to our lunch table, ever-so-slightly rain-mussed but otherwise immaculate in black and cream, a jaunty matching fedora astride her familiar blonde mane. "I'm never late. I blame email for this. I'm only just getting acquainted with it."
She is, thanks to a slight communication muddle, late only to a degree most actors wouldn't apologise for. Together with my lunchmate, Daily Telegraph critic Tim Robey, we've nabbed a cosy corner spot at Mayfair's all-day Italian bistro Cecconi's, a humming London institution of marble, green velvet upholstery and £40 white truffle starters. (Clarkson is more excited by other things on the menu: later, one eye on the menu, she interrupts her own sentence with the jubilant cry, "Meatballs! With spaghetti sauce!")
"This place is fabulous," she says—that adjective's first of many appearances in our two-hour conversation—settling into our banquette with a tidy collapse of a sigh. Patricia Clarkson, she does not mind admitting, is exhausted, and not just from her week of jury duty at the London Film Festival, where she presided over the panel that, we'd learn the next day, selected Russia's "How I Ended This Summer" as best in show. (All she tells us is that she's "very happy" with the "wonderful" winner they've chosen, though she successfully deflects our speculation as to what it might be. "Oh, the Russian film?" she shrugs, when Tim brings it up.)
Rather, her fatigue stems from a year of unusual visibility for the beloved character actress – who, since her high-profile debut in Brian DePalma's "The Untouchables" 23 years ago, has trod a careful course between indie and studio projects, from "High Art" to "The Green Mile" to "Far From Heaven" to her Oscar-nominated turn in "Pieces of April." 2010 maintained that balance, with eye-catching support in two very different mainstream hits, "Shutter Island" and "Easy A," bookending a rarer lead turn in the kind of off-kilter indie project with which she is mostly associated, Ruba Nadda's delicate not-quite-romance "Cairo Time."
Playing Juliette, a married magazine editor left to her own devices in the titular city while awaiting a postponed rendezvous with her husband, Clarkson offers one of the year's quietest great performances, a finely-etched study of fleeting personal insecurity and loneliness deserving of more plaudits than it will likely receive by the awards season's end. She's plainly proud of the film, given a summer release Stateside by IFC, and dismayed by its failure to find a UK distributor thus far.
"The film's not an arty challenge at all, it's incredibly simple," she says, as we invoke comparisons ranging from "Lost in Translation" to "Brief Encounter." "I think Ruba has succeeded in making a mainstream commercial film – well, a hybrid, in a way. It's a story that does cross over, and IFC realised that. I think it would do so well here." She excitedly relates the film's box-office figures, beaming as she informs us that it had the highest per-screen average in the US on its opening weekend.
We break off to order lunch: despite her earlier meatball reverie, she's landed upon a lighter crab and avocado salad. "I'll move right along past the quail eggs," she says, airily dismissing the dish of salmon, fennel and offending eggs I end up ordering. "I've eaten them, they're fine, but I can't get the image of the quail out of my mind."
There's a delicious hint of the Southern dame in these irrational asides. Though a New Yorker of many years standing, Clarkson (who has, after all, been Blanche DuBois on stage) is first a daughter of New Orleans. It's a contrast she got to play with in Woody Allen's "Whatever Works" (whose imminent British DVD release she's also in town promoting), her second collaboration with a filmmaker she admirers for his no-nonsense approach.
"Woody doesn't care what you had for breakfast, what your process is," she says. "Just know your lines, do your homework, put your clothes on. Actually, he does care a lot about clothes. So do I. They're crucial."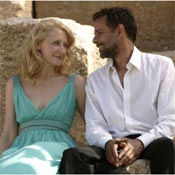 She's not kidding. Clarkson spends a lot of thought on her characters from the costume inward, particularly with regard to "Cairo Time" – as she describes it, the shifts and urges of Juliette's inner life are marked by costume designer Brenda Broer in the succession of increasingly showy, adventurously-hued outfits she wears across the film's slender timeframe.
Most notable among these is a bright turquoise gown Juliette buys in Cairo to attend a wedding – for Clarkson it's an out-of-character choice that signifies a kind of self-realisation in the character, and has become something of a symbol for the actress. "People who've seen the film now identify the colour with me so much that I can't wear it," she laughs. "During the festival, actually, there was a turquoise dress I wanted to wear, and I realised people will just think I'm still in character. Like, let it go, Patti. Take. The. Dress. Off."
If said dress could be said to give Clarkson her own modest version of the classic leading-lady makeover moment, it's appropriate – given that this is that unusual film that also finds the actress billed first on screen. "I know, right?" she says with a wry smile. "I rarely get that. But hey, I have a lot. I work a lot. I get a lot of billings."
One of those lower billings – and a wittily claimed source of dashed leading-lady dreams for the actress – came in Martin Scorsese's Grand Guignol psychological thriller "Shutter Island," in which Clarkson has a single, but crucial, scene as a wild-eyed (possible) truthteller to Leonardo DiCaprio's bewildered, on-the-run US Marshal. Or, as she likes to label the character, "Crazy Troll Lady."
"Think about it," she says matter-of-factly. "Martin Scorsese calls you and sees he wants you for his new film. One scene with just you and Leo… in a cave. I mean, yeah." Clarkson's dreams of a Kristin Scott Thomas-Ralph Fiennes-style cave tryst were, however, short-lived. "I mean, I was thinking more inappropriate than that. We're talking a pushy older lady with this young, hot guy… and then, uuuurgh." She puts her head in her hands. "Crazy troll lady."
Returning to her sartorial bent, Clarkson also has a bone to pick with "Shutter Island" costume designer Sandy Powell – a friend of hers, who coincidentally joined her on the London Film Festival jury. "Oh, my beautiful 'Shutter Island' frock," she mutters, voice thick with irony. "I've worked with Sandy twice, and of course the first time was 'Far From Heaven,' which had such iconic clothes. That emerald-green dress I wear in that party scene, all those beautiful autumnal shades. And from that to those itchy, rash-inducing… troll rags. I mean, Sandy!"
Her accusatory tone is undercut by a fit of giggles, as conversation drifts to her second, slightly better tailored supporting turn of 2010, playing Emma Stone's sweetly open-minded mom in the acid-tinged teen comedy "Easy A." The film, sharply written and performed across the board, benefits immensely from the chemistry between Clarkson and screen husband Stanley Tucci – a longtime friend of the actress, dating back to their joint breakthrough roles in 1995's landmark TV procedural "Murder One."
We single out one particular scene from the film, in which Stone's delightfully dorky parents are selecting the viewing programme for family movie night. The image of Clarkson bouncing excitedly up on and down on the sofa, fists raised in the air, cheering, "'The Bucket List!' 'The Bucket List!'" may well be the most joyously funny of her career.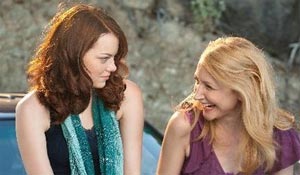 "Oh, 'Easy A' was such fun to do," she purrs. "Stanley is just great, the way he'll make up these hilarious bits of the spot. And, well, Emma Stone, she's just extraordinary. That's a hard character, because you can take what you want from her. She may be the new big sensation right now, but I do think she's the real deal."
Clarkson's sincere admiration for her fellow actors – both her peers and those a generation below – is a recurring topic through our conversation: among those who come in for gushing praise are Michelle Williams, Ryan Gosling ("truly a great young actor," she says, invoking Brando comparisons) and Josh Brolin, though she does voice concern that Brolin's burgundy suit in "Wall Street: Money Never Sleeps" makes him look "too much like a Sardi's waiter."
A less obvious recipient of her glowing praise is one Justin Timberlake, with whom she first collaborated on the infamous Andy Samberg "Motherlover" sketch on "Saturday Night Live." "I mean, please," she gasps. "'While you're in my mother, make me another brother…' That was priceless. Justin's just fabulous. And gorgeous. And this young, young man."
Clarkson's association with Timberlake extends to one of two films she shot in 2010, which also reunited her with "Easy A" writer-director Will Gluck: in "Friends With Benefits," a romantic comedy pairing Timberlake with "Black Swan" breakout star Mila Kunis, she plays Kunis's down-and-out mother. (The sting is taken out of this string of mom roles, she admits, by the fact that she gets to play the mother of such a succession of beautiful people: "Let's see, I've been the mom of Emma Stone, Mila Kunis, Justin Timberlake, Jim Sturgess…" she lists. "That is flattering.")
The second of these upcoming films, a UK-produced adaptation of the David Nicholls bestseller "One Day," teams her with the aforementioned Sturgess and Anne Hathaway. "I'm playing British for the first time, which is quite interesting," she says. "And it's a beautiful part. And Jim Sturgess is, you know, beyond dreamy. Beyond."
The film is directed by Danish-born "An Education" helmer Lone Scherfig, extending a run of collaborations with female filmmakers that the actress is keen to emphasize. "I've acquired quite the collection of fabulous female directors, all vastly different women and filmmakers – Lone, Ruba, Lisa Cholodenko, Isabel Croixet, Rose Troche.  And they're in an industry so lacking in oestrogen, so I'm lucky to have been with all these women." She pauses, her ticklish laugh bubbling up again. "Well, not been with all these women. How scandalous!"
Cholodenko's 2010 crossover success with "The Kids Are All Right" is a source of great satisfaction to Clarkson, who herself came to big-screen critical prominence in the director's 1998 debut "High Art." "I love her," she says. "She's made that rare film that's beautiful and speaks to people, and it's tough to make that in a comedy. I actually saw her last night at the premiere party and she was giving me a hard time about my iPad. I took it out to check something and she was all, 'Patti, did someone send you a telegram?'"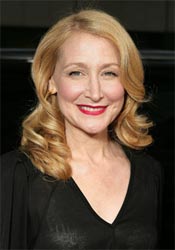 Clarkson's iPad is, it should be said, a recurring character in our conversation; the one concession she has recently made to the modern world, she regards it with a mixture of awe and suspicion. The antipathy towards email she mentioned in her introduction seems apt for an actress whose persona appears as equal parts homespun traditionalist and endearingly scatty, capital-A Actor, though she admits to becoming slowly, selectively hooked on the delights of the online world, beginning with her professed "baby crack" addiction to The Huffington Post.
A closer relationship with her iPad might yet beckon in the lengthy vacation she has planned for herself following her return to the Big Apple: "I have to take a break," she sighs, while relishing her current ability to determine her own working schedule. "It's great I have freedom in my life now. I'm not married, I don't have children. I just have a mortgage. And an old dog."
Said dog, a 16 year-old pitbull-crossbreed named Bo, is the reason she's most eager to return home and begin her downtime – though even then, her mind is still occupied with future projects. Chief among these is a Tallulah Bankhead biopic she has been enthusiastically developing for some time: "She's a really extraordinary subject. She maybe wasn't a brilliant actress, but I think that was almost her power. She made it by force of personality. That's what I love about her." Her face clouds over slightly. "There's going to be a lot of nudity in it, so I'm working out now, even inside my apartment."
One hopes she won't exert herself too hard; after all, her self-promised vacation should allow time for some inactivity. I can't resist repeating an observation that Tim made as we watched "Cairo Time," following a scene in which Clarkson's character rouses herself slowly from a mid-afternoon nap. "She's so very good at getting wearily out of bed," he noted, citing similar scenes in "High Art" and "Elegy," to name two.
Clarkson shrieks with laughter as I relay this tidbit; Tim, meanwhile, turns a gratifying tomato-soup red. "'Excellent weary rising action,'" she repeats thoughtfully, still chuckling. "You know what, on my résumé, under skills, that's going down there. Maybe when I'm 80, they'll give me a special Oscar for it. With a montage of clips from every movie where I've gotten wearily out of bed."
It seems apt to wrap up our lunch — crab, avocado and the dreaded quail eggs having long since disappeared from the table — on this projection for the future, however tongue-in-cheek. One rather hopes this most restless of actors won't have to wait that long to receive her due.
[Photos: GoMemphis, IFC Films, Screen Gems, EW]