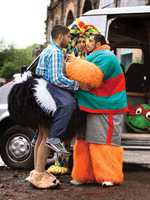 It struck me when I put up those two "tell us what you thought" posts this afternoon that I should probably dedicate some space to the film opening this week that deserves a look above all else.
Chris Morris's "Four Lions" opens in limited release this weekend after debuting at Sundance in January and playing this or that festival throughout the year.  It is the first release from Drafthouse Films, a distribution wing developed out of Austin's famed Alamo Drafthouse theater.  And it's a devilish delight.
I finally saw the film last night after missing it at every turn.  Yes, the film is funny.  But the humor and commentary cut so precisely that it has to be considered one of the great satires, perhaps in league with seminal efforts like "Network" or "MASH." Interestingly, it's not television news or warfare that Morris is sending up, but rather, an intriguing blend of the two.
The film tells the story of British jihadist suicide bombers with clashing ideologies.  Under the umbrella of socio-political farce, Morris's tale skips gracefully along its subjects' wicked banter on the way to as profound a statement on terrorism as we're likely to see — ever.  What distinguishes the work is its ease with mundanity and the overall naturalism ushered forth by quality performances from Kayvan Novak, Nigel Lindsay, Adeel Akhtar and Riz Ahmed.
The film is currently in the midst of a Drafthouse-sponsored traveling roadshow, with Devin Faraci (of Drafthouse's Badass Digest) tagging along to moderate Q&As with Morris.
It's a film that deserves your support, because who knows how long something this daring can actually survive in the marketplace.  If you find yourself torn between a laugh and something that demands a little more intelligence this weekend, spring for both.
[Photo: Drafthouse Films]