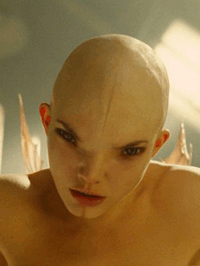 As I said last week (and have said several times before), no category is year-in and-year-out more perplexing than Best Makeup. Each year, this branch finds ways to turn otherwise dubious awards contenders into bona fide Oscar nominees — dubious because often nominees might be abysmal or relatively obscure.  The branch seems to have its favorites – like Greg Cannom and Rick Baker – but nevertheless manages to snub them sometimes when they seem sure bets.
The category remains the sole remnant of the bake-off system, where the field is narrowed to seven and the nominees chosen from that collective.  Year after year, shocking omissions occur in both rounds.
As I stated last time, despite the general weirdness of this category, we can put some traits as more likely to be embraced than others – aging, prosthetics and illness likely top the list. Also, while the category technically rewards both hairstyling and makeup, it rarely seems to concentrate on the former ("The Young Victoria" last year is a notable exception).  So all that having been established, what do I expect to see in contention this year?
If anything looks good, I'd have to say it is Tim Burton's "Alice in Wonderland." Johnny Depp, Anne Hathaway and Helena Bonham Carter were all covered in significant makeup in this effort. The film's box office was enormous and Valli O'Reilly is also a past winner. That having been said, Burton's films actually haven't scored here since "Ed Wood" all the way back in 1994 (and that includes a stunning snub of "Planet of the Apes" in 2001). So perhaps this isn't such a sure thing after all?
If you want showy prosthetics, you really can't beat "The Wolfman." And while the film had a mediocre performance at the box office and went down in flames with critics, this does not seem to matter in this category (see a film like "Norbit," also released in February, and also involving legend Rick Baker). In addition to Baker, the crew also includes three-time nominee Lisa Westcott.
Julie Taymor's "The Tempest" has its own share of prosthetics, not to mention body paint and decorations, as we can only expect from Taymor.   Her "Frida" won this category, after all, in 2002. While there are no repeat nominees from the past, it would still be foolish, given these factors, to dismiss this title. However, I'm ultimately inclined to think this film will end up, like "Titus" and "Across the Universe," confined to Best Costume Design.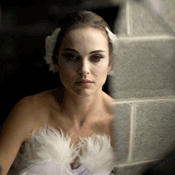 Darren Aronofsky's "Black Swan" seems to be an intriguing possibility to keep an eye on in this field.  Given that it also involves stage life, the makeup opportunities are all the more pronounced. The crew is not awards-seasoned but I really think this could change that, especially if it becomes a below-the-line hit.
Whatever else one might think of the it's potential, I truly believe that, at the very least, "Get Low" has an opportunity to earn Robert Duvall a Best Actor nomination.  And his obscure hermit character was significantly built by the makeup and hairstyling of Ken Diaz and Colleen Callaghan. Both are two-time nominees, so I'd say this is a dark horse candidate.
Another Best Actor contender is Mark Wahlberg in David O. Russell's "The Fighter," though it remains a question mark for me to a large extent. Any boxing movie will have to feature the realistic physical effects of the sport to get in, the sort which landed "Cinderella Man" a nomination here five years ago. The makeup and hair artists have yet to be nominated before, but I wouldn't put too much into that.
A very different sort of physicality is on display in "Splice" and "Let Me In." These two horror movies both feature makeup up the wazoo. So that could, of course, propel them here.  But oddly enough, horror movies, despite a reliance on makeup, rarely find room to navigate here.
As I've said before, while I don't think Martin Scorsese's "Shutter Island" is in any way a sweeper (or going to come close to nominations in the big categories), I feel one-to-three crafts nominations could very well happen. And the creation of its characters' descents into insanity the kind of effects this branch might notice. Then again, no Scorsese movie has ever been nominated here. Could this be the first?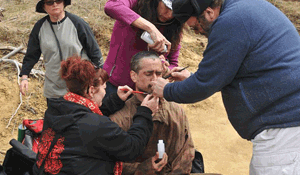 In a few weeks, "Harry Potter and the Deathly Hallows: Part 1" will be released and make hundreds of millions of dollars. The series has seen mixed success throughout its run, earning nominations in five different crafts categories. Best Makeup, however, has not been one of them. I find that odd. I'm not sure what "new" makeup will be on display this time out but given the erratic nature of this series earning new nominations (probably best exemplified in last year's cinematography nod), I wouldn't rule anything out.
I'll end with two films still to come.  First, the Coen brothers' "True Grit." This film seems to have more across-the-board crafts category potential than any film the duo has done. The makeup crew is not Oscar seasoned, but they will have the chance to capture the raw feeling of the Old West.  Meanwhile, Kris highlighted the makeup on display in Peter Weir's "The Way Back" recently, and seeing as "Master and Commander: The Far Side of the World" made it in seven years ago, that's a consideration.  Two-time nominee Edouard F. Henriques is on board.
Despite this now being the first week in November, I am sure that films could show up in the final seven, if not the final three, that I have not discussed today. We shall wait and see.And with that we have now taken a second look at half of the crafts categories!
[Photo: Warner Bros. Pictures, Fox Searchlight Pictures, Wrekin Hill Entertainment]