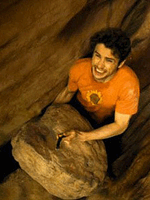 I ended up missing last night's premiere of "127 Hours" but man do I wish I had been there.  Because these fainting spells are turning into a traveling roadshow experience for the film.  First Telluride (where I was skeptical it was anything more than altitude sickness), then Toronto, now the Academy on Wilshire.  Maybe they should just start having medics on stand-by.
The incident is being reported as a "diabetic seizure" and apparently came during a not-all-that-intense moment in the film.  Gregory Ellwood wrote it up last night.  The Hollywood Reporter and David Poland chimed in today.  I was reading about it in real time via Steven Zeitchik's Tweets.  Bizarre.
Apparently the film got a standing ovation, as of course it would.  Premieres are cake for a film like this.  Bummer I couldn't make it but, onto the next.  Check back later today for an interview with the film's director and writer Danny Boyle and Simon Beaufoy.
[Photo: Fox Searchlight Pictures]