The pieces are gradually — very gradually — falling into place for Terrence Malick's endlessly delayed "The Tree of Life." First, new adoptive parent Fox Searchlight revealed a US release date of May 27, 2011. Now, courtesy of Collider, we have our first glimpse, albeit not of the finest quality, of a sales poster for the film. A bit of a half-and-halfer, as far as I'm concerned: the image is stark yet subtle, but the clunky typography carries a fan-made look to it.
In addition to the poster, the studious Collider folks have also dug up a synopsis — one that's been kicking around for a while, I hear — for those itching to know what the hell the film is actually about. It carries a spoiler warning, so I can't say I've read it myself, but it's also included after the jump if you feel so inclined. Now the only remaining question is: when, are where, are we finally going to clap eyes on it? Sundance, Berlin, Cannes, or none of the above?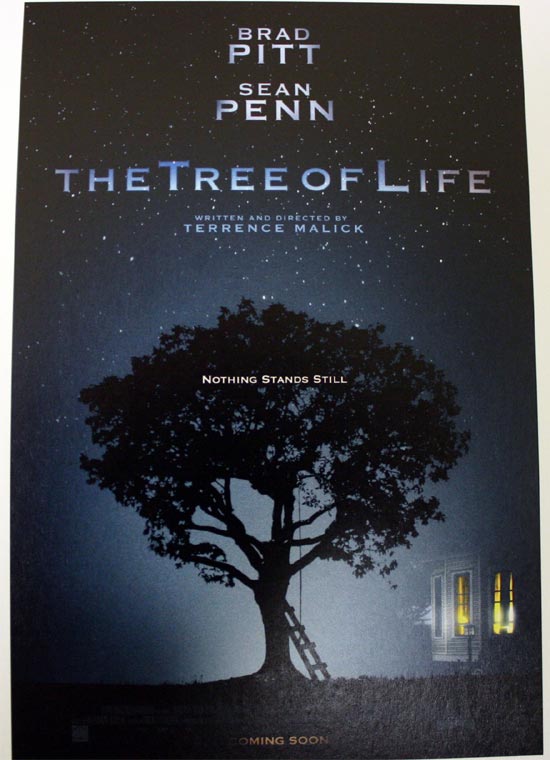 From the Desk of Terrence Malick….

We trace the evolution of an eleven-year-old boy in the Midwest, JACK, one of three brothers.  At first all seems marvelous to the child.  He sees as his mother does with the eyes of his soul.  She represents the way of love and mercy, where the father tries to teach his son the world's way of putting oneself first.  Each parent contends for his allegiance, and Jack must reconcile their claims.  The picture darkens as he has his first glimpses of sickness, suffering and death.  The world, once a thing of glory, becomes a labyrinth.

From this story is that of adult Jack, a lost soul in a modern world, seeking to discover amid the changing scenes of time that which does not change: the eternal scheme of which we are a part.  When he sees all that has gone into our world's preparation, each thing appears a miracle—precious, incomparable.  Jack, with his new understanding, is able to forgive his father and take his first steps on the path of life.

The story ends in hope, acknowledging the beauty and joy in all things, in the everyday and above all in the family—our first school—the only place that most of us learn the truth about the world and ourselves, or discover life's single most important lesson, of unselfish love.