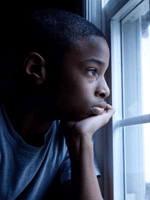 When I saw Davis Guggenheim's "Waiting for Superman" at the Los Angeles Film Festival in June, I noted that "the film casts a broad net when it would have been something more as a focused study" and that "modest stretching to make the point" dilutes the overall impact of the film.  However, I also made it clear that while not entirely successful as a work of art, it's certainly worth applauding as a work of activism.
Well, Diane Ravitch at The New York Review of Books isn't nearly as forgiving.  In a piece called "The Myth of Charter Schools," Ravitch takes Guggenheim's film to the cleaners, attacking its depiction of charter schools and denouncing privatized education as the answer to a struggling public school system.  She also mentions similar docs released this year — "The Cartel" and "The Lottery" — but mainly, Ravitch dives into the facts and figures to disassemble seemingly every frame of Guggenheim's film.
Highlighting unsavory real estate deals, embezzlement and blurred lines between church and state, among other concerns with charter schools, Ravitch really takes the gloves off when it comes to what she views as essentially propaganda in the film.  "Why propound to an unknowing public the myth that charter schools are the answer to our educational woes, when the filmmaker knows that there are twice as many failing charters as there are successful ones," she asks.
She also takes aim at the near deification of Geoffrey Canada, whose story is a wonderful one but also isn't fully disclosed.  Writes Ravitch:
Guggenheim didn't bother to take a close look at the heroes of his documentary. Geoffrey Canada is justly celebrated for the creation of the Harlem Children's Zone, which not only runs two charter schools but surrounds children and their families with a broad array of social and medical services. Canada has a board of wealthy philanthropists and a very successful fund-raising apparatus. With assets of more than $200 million, his organization has no shortage of funds. Canada himself is currently paid $400,000 annually. For Guggenheim to praise Canada while also claiming that public schools don't need any more money is bizarre. Canada's charter schools get better results than nearby public schools serving impoverished students. If all inner-city schools had the same resources as his, they might get the same good results.
She further accuses Guggenheim of skirting the issue of poverty "by showing only families that are intact and dedicated to helping their children succeed," vis a vis a public "lottery" held to determine which students would be enrolled in charter schools, and really makes her point clear early in the piece by asserting that "Guggenheim presents the popularized version of an account of American public education that is promoted by some of the nation's most powerful figures and institutions."
To be perfectly honest, I'm surprised it took this long for a hit piece along these lines to land.  You knew it was coming, because the film simply plays too loose and simplistic with data (as I noted in a small example five months ago).  It's a kumbaya moment waiting to be shot down, a balloon waiting to be popped by reality above lofty (and skewed) rhetoric.
Education is a concern.  The dialogue should be opened up and I think Guggenheim's film does that to an extent.  But obviously focusing strictly on reform and not paying attention to peripheral concerns in a child's life is unwise — not to mention the inherent danger in generalization and fudged facts in order to make a point, however profound.  All involved left themselves open to Ravitch and her ilk.
Geoffrey Canada, by the way, was recently featured on Late Night with David Letterman.  Here's that appearance:
[Photo: Paramount Pictures]