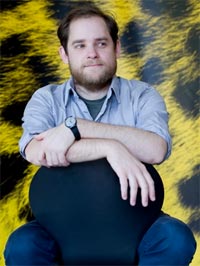 When the director of a gentle indie character study—even one joshingly praised as "mumblecore with a plot" by certain critics—cheerfully tells you that his next project is more of a "werewolf buddy cop comedy," you could be forgiven for expecting a thick veil of irony to cover the remark.
But Aaron Katz, it turns out, is as guileless and unfussy as the films he makes, describing his foray into genre play with a boyish excitement and sincere sense of movie-love. "There are a lot of big films that come out in the summer now, but not the kind that I really love," he says, fairly late in our Sunday afternoon conversation. "In the 80s early 90s, we had films like 'Die Hard' or 'Beverly Hills Cop' – genuinely fun and weirdly classy and restrained compared to blockbusters today. So we're trying to write the kind of entertainment that we'd want to see, but still, you know, very much us."
That modestly stated "us" nods to a distinct stylistic trademark the 29 year-old Oregon native and his collaborators have established across three features in just five years: his 2006 debut, "Dance Party, USA," and Spirit-nominated follow-up, "Quiet City," both balanced the talky, lo-fi youth idling of much contemporary Amerindie cinema with an unusually crisp visual sensibility.
His superb third outing, "Cold Weather," which has been travelling the festival circuit since premiering to great acclaim at SXSW in March, maintains this brand while providing the first inkling of Katz's genre-film ambitions: born of his lifelong enthusiasm for detective fiction, from Arthur Conan Doyle to Raymond Chandler, it's a sweetly scruffy mystery caper folded into a touching sibling relationship drama.
"I started writing it not really knowing what kind of film I wanted to write," he says, hunched forward in our corner couch at London's BFI Southbank, where the matinee LFF screening of "Cold Weather" has just got underway in the theater next door. "I went home to Portland to visit my parents, and was writing about a week before I had the idea to throw some detective elements in, just spurred by what I was reading at the time. And I remember just before leaving, calling Ben [Stambler] and Brendan [McFadden], my producers and co-writers, and saying, 'I think I have something pretty weird here.'"
As suggested by that last statement, Katz views his films as collaborative efforts by a closely knit team of artists, many of whom attended the North Carolina School of the Arts together (along with IC's own Kris Tapley and Chad Hartigan), and takes pride in their visible collective growth across three films. Stambler is sitting in on the interview, and stresses the importance of the team dynamic, especially in the face of limited resources – indeed, the crew shared the same Portland apartment for the duration of the shoot. ("It helps with camaraderie when everyone has to drag themselves out of bed together at 5:15 in the morning," he smiles.)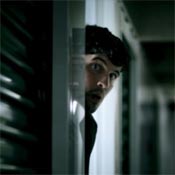 "We really try to use everything, and everyone, we have," he continues. "We may spend a pretty significant chunk of our budget on the camera, but more important is spending time with our DP Andrew Reed, mutually discussing and developing the look. We like having everyone involved, not just in their narrow part of the process, but spending time, which is free, into making the most of the resources we have."
Although his debut was also set in his hometown, Katz was determined that "Cold Weather" convey a more quintessential sense of Portland, down to the titular climate. "I guess that's what I really think of when I think of Portland. A lot of my favourite American detective fiction is set in LA, where it's always sunny, so I liked the idea of transposing that kind of story to a place where it's constantly misty and drizzling and cloudy." Stambler points out the indirect resemblance to the foggy London of Conan Doyle's Sherlock Holmes stories, so beloved by the film's slacker protagonist Doug, a forensic science student turned ice-factory worker turned amateur P.I.. "Plus, Portland has something of a noirish feel itself, with all its art deco architecture and neon lights, in a kind of appropriately mundane way."
Even in their use of locale, then, the filmmakers are keen to work in a broader frame of cinematic reference than some of their contemporaries in the indie sphere. Does Katz bristle, then, when critics classify his work with the reductive (and faintly pejorative) "mumblecore" tag? "I don't hate the word, actually," he says. "It just feels so distant to me, like something you say about someone else's film, not how you'd ever describe your own. But it's served us well, especially early on, because it gives you an association with other films audiences might know."
Stambler explains it differently: "Once it became labelled, people who had no connection to the circle of filmmakers that started it could acquire the aesthetic. That's fine, but there are people who are seriously making individual films who have gotten stuffed into that label. It just happens that all movies made under $100,000 in 20 days end up looking a bit rough round the edges, but that doesn't they're all one genre."
With that in mind, Katz is sympathetic to independent filmmakers who make overt stabs at the mainstream, as their fellow North Carolina graduate David Gordon Green did with "Pineapple Express" in 2008, or more recently, Anna Boden and Ryan Fleck attempted with "It's Kind of a Funny Story." "It's difficult to keep making movies essentially by yourself," he says. "It's art. If you're lucky, you can make movies with someone else's money, and if you're one in a million, you can make a payday doing that, but beyond that, it's basically a process of survival."
Stambler extends the point:  "It's a completely understandable temptation to make or adapt something for a studio to make money. But at least if it's your own concept, even if it's adopting some elements of a mainstream approach, you're still working with material that you have a direct relationship with. It's still you."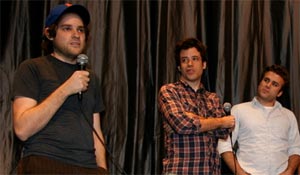 This brings us round to the aforementioned werewolf movie, which Katz insists will remain intimate and character-focused, even as it pulls on a range of references that his producer mirthfully describes as "'Teen Wolf' meets 'Beverly Hills Cop'."
"Brendan and I are working our way through the second draft of the script right now," he offers, clearly warming to his subject. "We're still at the stage of distilling, fine-tuning, focusing on the stuff we feel works, and trying to go further with it. It's really different from anything I've tried writing before.
"There are two main characters that are the focus of the movie, and we just have so much love for them. So even though it functions—even more than 'Cold Weather'—as a more traditional narrative, the core of the movie is still the characters. Plus there are several smaller characters that, as time goes on, are less necessary to the plot, but we fall in love with them more and more. So their scenes get longer as we try and think of more for them to do."
Still an Aaron Katz film, then. "Hopefully," he says, smiling wryly as his eyes dart down to his sneakers. "It'll be fun to see."
IFC Films will release "Cold Weather" in the US in February 2011.
[Photos: Life, IFC Films, indieWIRE]