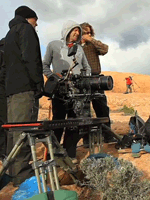 One of the unique aspects of Danny Boyle's "127 Hours" is it's use of two cinematographers.  Longtime Boyle collaborator Anthony Dod Mantle (who won the Oscar for Best Cinematography in 2008 for "Slumdog Millionaire") was joined by Enrique Chediak (who shot the Boyle-produced "28 Weeks Later").
Both units were given equal weight during production (going so far as to be dubbed "red" and "blue" rather than "one" and "two").  As producer Christian Colson puts it, the decision served to keep the energy of the film constant and consistently bring in fresh ideas.
Fox Searchlight has supplied us with an exclusive clip detailing the duel DP design (alliteration — nice).  In it you'll hear from Boyle, star James Franco, Mantle, Chediak and Colson.  Have a look after the jump.  The film hits theaters in limited release this weekend.  (Also, check back tomorrow for an interview with director Danny Boyle and screenwriter Simon Beaufoy).
[Photo: Fox Searchlight Pictures]