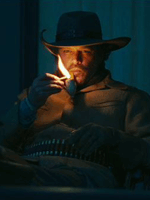 It seems like I'm desperate for any morsel on the Coen brothers' upcoming "True Grit." If you haven't guessed by now, it's the film I'm most looking forward to this season, and every time that trailer drops before a film, I perk up immediately.  I'm in the tank and I haven't even seen it.
I guess everyone involved is getting their patter down, because after a quick EW video interview with child star Hailee Steinfeld yesterday, I stumbled across this interview with Matt Damon from Empire.  It's actually just a snippet of the exchange.  There's more in the full issue, which hits stands tomorrow (the cover featuring that first glimpse of Steve Spielberg and Peter Jackson's "The Adventures of Tintin: The Secret of the Unicorn" that has so many all worked up).
Damon was asked about the role of Texas Ranger LaBeouf, who looks to offer some comedic balance to the dark retribution and vengeance-seeking air of the film.  And the actor says he looked to a fellow actor for inspiration.
Says Damon:
We had all worked with Tommy Lee Jones, who is from near where my character is from, in Texas. And Tommy is a really smart guy – I could just sit and listen to him talk. So I played my character like Tommy Lee Jones. He likes to hold court like Tommy Lee, but La Beouf is a windbag – a total jackass…
Meanwhile, the film has been jerked up a few days.  It will now open wide on December 22 rather than Christmas Day.
[Photo: Paramount Pictures]