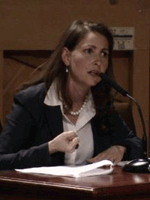 Following on the heels of that "Waiting for Superman" item this morning, I have a clip of Madeleine Sackler's "The Lottery" to share.
"The Lottery" hit theaters back in May to little fanfare but the publicity machine is swinging behind it as we cross into awards season territory.  The film focuses on the lottery scenario depicted briefly at the end of "Waiting for Superman" (for the purposes of entering a charter school, which was the subject of Diane Ravitch's ire in that piece earlier).  While detailing union resistance as part of the debate it also focuses on the community debate over building space for charter schools versus zoned public schools and explores that specific issue a bit more in depth (with eye-popping revelations about charter protests).
To put the clip in context, Eva Moskowitz of the Success Charter Network is presenting the benefits of a charter school system to elected officials stonewalling her cause.  It's from a larger segment, the juiciest scene of the film.  Check it out after the jump.
[Photo: Great Curve Films]