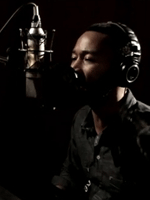 In lieu of a proper "listen to" item on John Legend's "Shine" from "Waiting for Superman" (since I've already featured the tune twice), I thought I'd post up this video of the singer performing the song with The Roots in studio.
At the end of the day, I think this track has a real shot at being our Best Original Song winner.  Though some point out that Melissa Etheridge won here in 2006 for "I Need to Wake Up" from "An Inconvenient Truth" (another doc hit with AMPAS), that was before the current voting practice of viewing contenders in the context of their films.  So it's possible Legend misses the nod altogether.  But I think it's also worth pointing out that, like "I Need to Wake Up," "Shine" doesn't just play over a traditional credit role, but instead an animated "fact roll," if you will, with various bits of information making an extension of the narrative.
And after the nod?  Tough to stand up to that charisma and such a chance to do well by the issue by shining (pardon the pun) a spotlight on a film that may not win in the doc feature field (given the stiff competition), especially when you're working with frothy tracks from animated features and musical numbers in films that don't appear to be major Oscar threats in general.
Check out the video after the jump.