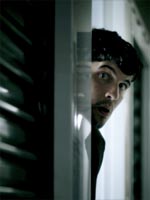 For those of you who were loyally following my London Film Festival coverage this year, I must apologize for leaving it somewhat in limbo. Though I did eventually find time for a lengthy discussion of fest closer "127 Hours," a snowballing workload put paid to my hopes of squeezing in a few more review roundups. And frankly, since the festival wrapped on Thursday after four weeks of press screenings, I so relished having ownership of my days again that I let things lie longer than I intended.
But by way of a belated send-off, here's a gathering of the films that made the LFF for me this year. I saw precisely 60 films at the festival, in addition to 27 I'd already seen at previous fests, so I was naïve to hope I might get round to discussing most of them.
Some of the  clunkers (glum German childbirth drama "Blessed Events," Ferzan Ozpetek's lead-footed gay comedy "Loose Cannons") barely merit appraisal; other, more interesting, disappointments (Xavier Dolan's meticulous but terminally precious love triangle "Heartbeats," Benedik Flieugauf's visually startling but sketchily conceived sci-fi "Womb") at least deserved a few paragraphs. Ah, well.
Happily, however, outright misses were few and far between in my LFF viewing — the following list of my 10 favorite discoveries of the festival (obviously excluding fest films I'd seen earlier, such as "Meek's Cutoff," "Black Swan" and "Another Year," all of which would otherwise join this group) merely represents the cream of stimulating fare on offer in this year's programme. Four of them I've reviewed before (and have lazily excerpted said reviews); the rest I had hoped to get to earlier, and at greater length. All are special — seek them out when you have the chance.
(Finally, the festival-related coverage hasn't entirely run dry with this post — keep an eye out for a triple-shot of interview pieces in the coming week.)
10. "Le Quattro Volte" (Michelangelo Frammartino, Italy)
Feet planted on either side of the documentary-fiction divide, Frammartino's siesta-paced study of life cycles, and recycled life, in a remote Italian village divided festival critics and audiences down the middle: for every viewer hypnotised by its playful chain of human, animal, vegetable and even mineral activity, there was another who found it self-regardingly contrived, if not outright snooze-y. Happily, I fell into the former camp: there's enough gentle observational humor in the director's tableaux to cut through its determinism. And even my little tin heart was melted by the chapter devoted to a wayward baby goat, the undisputed star of a very quiet show. (Kino International will release the film in the US in March 2011.)
9. "Catfish" (Henry Joost and Ariel Schulman, USA)
"Don't let anyone tell you what it is," the marketing for this slyly shapeshifting documentary has implored us since Sundance, and I dutifully did my bit, blanking any discussion of the film to such an extent that I settled into the screening innocent even of its Facebook-related premise. Having expected a smarmy trick movie of sorts, I found myself blindsided not just by the "gotcha" kinks of its narrative, but by its gradual morphosis into a near-accidentally moving character study, as well as a thoughtful essay on the politics of modern communication – "The Social Network" will forever have this lightning-in-a-bottle debut as its sister. (Currently on release in the US.)
8. "Archipelago" (Joanna Hogg, UK)
Hogg's itchily brilliant 2007 debut, "Unrelated," sadly never made it to US shores, so it can only be hoped that the runner-up prize her strong follow-up received from Patricia Clarkson's jury portends greater exposure. "Archipelago" will suffice as an introduction to the director, not least because it covers such similar territory to its predecessor: the familial fragilities and hostilities between Britain's vacationing upper classes, unknotted with sad, scabrous wit. Some critics have accused Hogg of treading water, and the new film is a touch woollier than the last, but the consistency of theme and texture (with floating adjustments in tone) point to a major auteur hatching before our eyes. (No US distributor yet.)
7. "The Temptation of St. Tony" (Veiko Õunpuu, Estonia)
(from full review) This blacker-than-tar absurdist comedy (and Oscar submission) is so far off track as to  cause all GPS systems to spontaneously self-combust. Akin to Roy Andersson adapting Kazuo Ishiguro's "The Unconsoled" under a low-hanging cloud of Catholic guilt, the loose-limbed (or perhaps just many-limbed) story centers on the title character's impassive yet severe midlife crisis, one that takes the form of assorted hallucinations of undressing policemen, severed hands, violent gimp-run cabaret nights and Cannibalism on Ice. Glisteningly shot in silvery black-and-white, and graced with a dazzlingly atonal sound mix, the film spiders its way into allegorical statements on capitalism, history and religion without ever fully showing its hand. (Released in US theaters in September.)
6. "Neds" (Peter Mullan, UK)
(from full review) Peter Mullan's electrifyingly messy and feeling-flooded period teen drama feels nervily alive, as opposed to reverentially embalmed, in its documentation of a past milieu: in this case, the proudly frayed and gang-patrolled Glasgow council estates of the late 1970s, wherein gifted teenager John McGill (BIFA-nominated newcomer Conor McCarron, alternately cocksure and wincingly vulnerable) is repeatedly brought to the possibility of self-actualization before sabotaging his own escape. Not every flourish lands just right on the canvas, but Mullan remains a relentlessly probing filmmaker even on his off beats. Ribald, risky and scarred with sorrow – and the most invigorating British film of the festival. (No US distributor yet.)
5. "Mysteries of Lisbon" (Raúl Ruiz, Portugal)
I saw Ruiz's lusciously mounted, four-and-a-half hour windmill of an ensemble romance, its couplings rotating and alternating freely across an epic chunk of the 19th century, on a drizzly Saturday afternoon – and I can't imagine a more appropriate time to wallow in a work that sits halfway, in experiential terms, between a hefty picaresque novel and a supremely highbrow TV soap. As hour unfolds upon hour,  Ruiz's vast collection of stories melt intractably together in terms of beginning and end, but confusion is part of the bliss – and a further excuse to be distracted by the film's exquisite, verdigris-coated mise-en-scène. (No US distributor yet.)
4. "Love Like Poison" (Katell Quillévéré, France)
The LFF doesn't dish out acting awards, but if it did, it'd be hard to name a more deserving recipient than 15 year-old Clara Augarde, making her debut (as indeed is her director) in this stark but unsettling coming-of-age story, which distinguishes its take on the teenage emotional maelstrom with a severe Catholic subtext and a courageously candid depiction of its young protagonist's sexual curiosity. Through the eyes of Augarde's home-for-the-holidays schoolgirl Anna, Quillévéré maps out an entire community hamstrung by emotional and religious insecurities; among her film's many striking achievements is its emphatic reappropriation of Scala's choral "Creep" cover from the "Social Network" trailer. (No US distributor yet.)
3. "How I Ended This Summer" (Alexei Popogrebsky, Russia)
A deserving winner of the festival's top prize (and a brace of awards, including Best Actor, in Berlin), Popogrebsky's Arctic Circle-set two-hander works a curious set of contradictions: intimate in scope yet grandiose in form, methodical in layout yet raggedly urgent in dismantling. Following two meteorologists – one a veteran, one a trainee – as they extend and retract intimations of fraternity at an otherwise unpopulated weather station, the film allows its canvas to shrink and stretch from scene to scene, spectacular shifts in climate and landscape exerting an intangible influence on the narrative as the men's conflict moves beyond the psychological. (Film Movement will release the film in the US.)
2. "Cold Weather" (Aaron Katz, USA)
(from full review) Katz's third feature disarmingly continues the shuffling sense of 20-something statelessness examined in his earlier films, but makes some adventurous conceptual tweaks to the formula. Most notable among these is the gently playful shoehorning of genre elements into a whispery character study: 40-odd minutes in, the film casually yawns, stretches and takes up an shaggy-dog mystery plot born of the director's love for detective fiction. A miniature triumph of atmospherics and visual composition, with crisp, minty cinematography and the year's most bewitching score, elegantly pitting brisk, wintry chimes against warmer wood notes. Amid the stylistic diversions and knotty plotting, however, Katz's wonky wit happily hasn't gone astray. (IFC will release the film in the US in February 2011.)
1. "Carlos" (Olivier Assayas, France)
(from full review) Rangy, rumbustious and generally tremendous: the dense, unselective assembly of information in "Carlos," coupled with surprisingly linear presentation, should make for something of a hard-graft slog across 325 minutes, but there's so much business in the film to attend to that we're too preoccupied with chasing it to check the clock. Edgar Ramirez's riveting quick-change performance, capturing the character's curiously small petulance as well as his extravagant sense of self-mythology, is something to behold, but he and his director never presume to know exactly what made the man tick: their Carlos is a man who spins ever more unreachably away from us the further he loses his own grip on himself. (The film is currently on release in the US.)
(Photo: IFC Films)