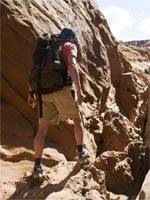 It all started, as so many conflicts do these days, with a tweet. After spending a morning and afternoon musing on "127 Hours," following a breakfast-time screening on the last day of the London Film Festival, I accepted the hard fact that I simply didn't like it very much.
I wanted to feel differently. Danny Boyle, in addition to being one of my favorite ever interviewees, is a vital filmmaker whose previous misses I've even found more stimulating than most directors' hits. James Franco is shaping up to be among the most pleasingly off-kilter leading men of his generation. The tech geek in me was excited to see the long-underused Enrique Chediak working on a large canvas, alongside the justly rated Anthony Dod Mantle.
I had, I admit, harbored doubts about how Team Boyle could cinematically enliven Aron Ralston's simple-if-grisly survival tale, one that could promise no surprises after ample media coverage as recently as 2003. Some blinder of a structural or technical choice, I assumed, was being hidden up someone's sleeve — and when I saw only a familiar collection of hopped-up editing tricks and multimedia interpolations that designerised the protagonist's plight without deepening it, I wasn't afraid to say I felt a little crushed.
Handing the film a D+ rating — letter grading being my habitual system for Twitter-haiku reviews — I offered a single curtailed sentence as explanation: "Boyle's off-his-Ritalin visuals and Franco's charisma can't mask fact that this story has no second degree."
It was intended, as always with such tweets, merely as a stopgap until I found time to write a longer piece, so I was somewhat blindsided by the attention my 140-character amuse-bouche received. A surprised Anne Thompson posted it on her blog, and brought it up again on Friday's episode of Oscar Talk with Kris. Meanwhile, Sasha Stone used it as a trigger for an entire essay on her relationship to film critics, raising the issue of relative "life experience" that she's used before to defend films she loves, and bluntly stating that, as much as "it is about subjectivity," I am still "flat out wrong" for disliking the film.
The ensuing comment debate spiralled far away from "127 Hours" itself — though Stone's aide Ryan Adams, who hasn't seen the film, did offer a defense of Boyle's vision — and more into the currently popular online meme of reviewing the reviewers. As game as I usually am for such debate, it seemed strange to be arguing over a reaction I hadn't yet fully expressed.
So allow me to return to the movie for a minute. If you came within touching distance of a newspaper, or TV news broadcast, seven years ago, you probably know that Aron Ralston is the young American mountaineer who amputated his own right arm with a pocket-knife after getting it inextricably trapped under a boulder during a hiking mishap. The 127 hours of the title refer to the time Ralston spent in this captivity, and they've been fashioned by Boyle, co-writer Simon Beaufoy and editor Jon Harris into a conversely restless 90 minutes of film that darts between part, present and even future, but interrupts the protagonist's emotional arc so frequently that the person never supersedes the plight.
The filmmakers can't be held to blame for the audience's certainty of the outcome — like many a horror film, it's a narrative that hinges not on what, but on when — but Boyle's attempts to implant urgency by way of split screens, rapid-fire cutting and timeframe hopscotch feel both dated in execution (those "glorified Gatorade ad" jibes you might have heard aren't entirely out of place, not least when the film indulges in pointlessly self-aware product placement) and inorganic to the story at hand. There's a presumably deliberate irony to this onscreen activity in the face of Ralston's entrapment, but it's a glib joke that comes at the expense of sequences that might build a more sustained sense of panic, despair and, yes, something approaching suspense.
The camera's reluctance to stay on Ralston could be read as a nod to the faint hollowness of the character — and it's to the credit of Franco's bright, alert lead turn that he undersells neither the man's smarminess nor his selfishness — but Boyle and Beaufoy attempt to have things both ways by pitching his eventual escape as a broadly relatable feat of spiritual triumph.
Egged on by the cod-inspirational, Dido-voiced strains of A.R. Rahman's score (the repeated lyrical motif of "rise" pushing the Jesus-isms a little too hard, if I may), the overblown finale skips straight past Ralston's personal victory to universal moral riffing on that old "no man is an island" chestnut, and I'm not convinced he's a sufficiently compelling individual vessel to take us there. As moved as some viewers have been by the depiction of his ordeal, I felt little emotional connection to the story beyond lurid "what would you do?" finger-pointing; it remains something interesting that happened to someone else, but my understanding of his courageous act is no richer or more conflicted than it was the afternoon I first heard the news in my car.
I'd be happy to accept the film as less a heart-and-soul movie than a cool exercise in narrative limitation — extending this year's odd streak of confined-space thrillers, including "Buried" and the decidedly underrated "Frozen" — if its technical properties weren't also so hit-and-miss: major credit must go to the wincingly vivid sound design, but the teaming of Mantle and Chediak doesn't entirely satisfy, as their jittery camera swoops and jazz-hands angles read occasionally as an imposition on the majestic locale they're shooting. Boyle has never done austere, and we wouldn't want him to start now, but as he and his crew aim to repeat the pop dynamism of "Slumdog Millionaire" — to an extent that feels surplus to the demands of this one man show — his sense of intimacy has gone astray.
That is my opinion, and it's a sincere one — despite the insinuations of some (including even Kris) that my stated dislike of the film is rooted in contrarian reaction against its success thus far. The film will surely find an appreciative public audience, and may even be the Oscar contender that many are predicting, though I can just as easily imagine a sizable contingent of voters not taking to its bare-bones, youth-oriented story — not to mention its grisly money shots.
Either way, as fun as such speculation is, it's not a consideration that has a place in my critical response to this or any other film, and I'm disappointed that Sasha Stone — or anyone else — might interpret an off-consensus opinion as "a need to cause a mini-controversy." When the dust of the season settles four months from now, all we'll have are the movies: we may as well get our relationship with them off on an honest footing. I may have criticised (in a figure of speech that irritated some) "127 Hours" for having no second degree of subtext, but in this case, I haven't one either.
[Photo: Fox Searchlight Pictures]