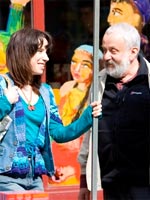 I often hear Mike Leigh described as a great "women's director," though that's really only half the truth. Vivid, probing male characters abound in Leigh films, often as vital counterpoints to female star turns (see Eddie Marsan in "Happy-Go-Lucky" or Timothy Spall in "Secrets and Lies") but sometimes in center stage too: in "Naked," David Thewlis gives what might be the richest performance in any Leigh film to date. (Hefty statement. Hefty performance.)
In other words, Leigh is not so much a great director of women as a great director of actors, period. But his actressy reputation sticks, partly because his women have an easier time impressing awards voters, but perhaps also because he's tougher on the women he writes than most male auteurs, making harsh moral demands of some and pushing even the saintlier ones (Imelda Staunton's Vera, Sally Hawkins's Poppy) into behavioral extremes that render them tricky to play. There are no stock love interests, blandly supportive wives or femmes fatales in Leigh ensembles: every character, of either sex, in ensembles comes with an independent inner life.
I write this in response to a wonderful Guardian piece (and accompanying video) on Leigh's collaborations with his actresses, most of them fostered over several films. Kate Kellaway has gathered interviews with the likes of current Oscar hopeful Lesley Manville, Sally Hawkins, Brenda Blethyn, Imelda Staunton and Alison Steadman, each discussing their working relationship with the director, as well as with Leigh himself. (Steadman, of course, is the director's ex-wife, which may inform Leigh's own self-effacing statement: "I'm someone who has deservedly been a signal failure at relationships … but I do have a good working relationship with actresses.")
While the mutual affection between them is clear, so is the lingering, sometimes unsettling, attachment of the actresses to the character's they helped create via Leigh's well-known workshopping technique. I was touched by Staunton's explanation on the evolution of her bond with the Oscar-nominated title character of "Vera Drake":
Working on the role [was] "exhilarating". It was only later that "the fall-out happened. Vera Drake made a dent in my head that, at the time, I was not aware of at all. Three or four years later, I was thinking about it all the time. I'd lost that family, lost that woman. Vera made a huge impact on me."
Speaking of Staunton, I'm pleased to see Kellaway offer one of the few specific appreciations I've read for Staunton's brief but arresting cameo in "Another Year," a hard, sharp mini-performance that, after brooding on it for some time, I've come to see as the key to unlocking the film's evasive stand on companionship and self-made unhappiness:
The extraordinary thing is that as middle-class, unhappily married Janet, she seems more of a casualty even than Vera Drake. Leigh is known for his films about working-class life but does not make the case for happiness having much to do with money. Staunton's performance is amazing: her misery, as Janet, formidable. She excites tremendous, never-to-be-satisfied, curiosity in the audience.
Between contributions like Staunton's and the airy comic relief of Karina Fernandez (who I'm happy to see also gets namechecked in this piece), the film's ensemble can be seen to have so many tiers of support that considering either Manville or co-star Ruth Sheen as non-leads starts to sound reductive.
Anyway, plenty more to chew on, including Leigh's appreciation of the late, great Katrin Cartlidge, who may well have had her own belated moment in the sun, like so many of Leigh's over-40 actresses, had she not left us too early. Read the rest here.
[Photo: Miramax Films]