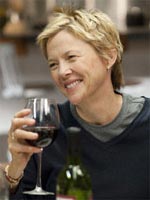 It's not exactly a precursor, but the news we just received that Annette Bening is to receive the American Riviera Award at next year's Santa Barbara International Film Festival is a bullish omen for her Oscar chances.
The prize, a career achievement award given annually to "an actor who has had a strong influence on American cinema," has coincided with the Academy Award more often than not in the past five years: Philip Seymour Hoffman, Forest Whitaker and Sandra Bullock all scooped it up on their campaign trails, while it presaged nominations for Tommy Lee Jones and Mickey Rourke. Clearly, festival director Roger Durling and his team think Bening's hour has come.
Bening has a good relationship with the SBIFF: she was previously honored with their Montecito Award in 2005. The award will presented on January 28, the second day of the fest — accompanied, as is their custom, by an onstage retrospective and Q&A with the actress. As usual, Kris will be attending the festival to bring you the highlights of the occasion. Press release excerpt after the cut.
"I fell in love with Annette Bening the moment I saw her on Broadway in Coastal Disturbances in 1987, commented SBIFF Executive Director Roger Durling. "It was one of those 'a star is born' moments. Ever since, she's been one of my favorite actresses, and she will always have a home here at the festival."

In her most recent performance as Nic in The Kids Are All Right, she expertly navigated through a vast range of emotions, bringing to light and life the non-traditional family with a character determined to keep her family together. Earlier this year in Mother and Child saw Bening personify a very different character in Karen who was isolated and distant in her relationships with everyone. Proving yet again that she is not one to shy away from a challenge, she took on two diametrically opposed versions of the modern day mother.

From her work in romantic comedies such as The American President and American Beauty, to her dramatic and compelling performances in Being Julia, Regarding Henry and The Grifters, Bening consistently embraces the story as well as the character adding a level of authenticity rarely seen on screen. She has time and again made a significant contribution to the world of films and of America throughout her career.
[Photo: Focus Features]