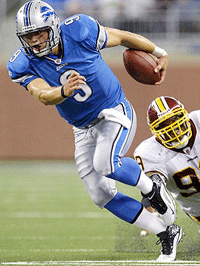 Catch up with the idea behind these weekend posts here.
I'm in Detroit for the game tomorrow, so movies are somewhat out of sight, out of mind.  Somewhat.
As I drive around town, I'm reminded of some singular opportunities here for the film industry.  I don't really know the particulars of filming in Detroit or if Hollywood really bothers.  There's a lot of Pittsburgh filming going on these days and I imagine you get the same feel from a town like that, but kind of like Kansas City, there are unique areas here that would be unexpected gold mines for location shoots.
It's a sad sight, though, to say the least.  Not that that's news.  I came through four years ago, didn't spend much time here, and got the heck out as soon as possible because "depressing" doesn't begin to say it.  But I have a soft spot for the town.  My fiancee is from here (grew up between 7 Mile and 8 Mile — I wonder if she ever ran into Marshall Mathers on these mean streets).
And I'm slowly turning her onto football (key word: slowly).  It's a good time to start being a hometown Lions fan — they're going to turn the corner soon, and be something special.  Just watch.  But, well…go Redskins.
I watched "Halloween" for like the hundredth time last night.  Few films understand the language of cinema like that one.  It's weird to call a classic like that "underrated," but I do think few understand just how innovative it was.  Siskel & Ebert break it down in 1980 here, in a discussion as relevant today as it was 30 years ago.
If you get a chance, check out the "Inside Story" on the film, which has been airing on the Biography Channel (along with another episode for "The Silence of the Lambs").
That's all I've got.  "Paranormal Activity 2" tonight.  You know what to do — open thread.  And Happy Halloween.
[Photos: Times Union]