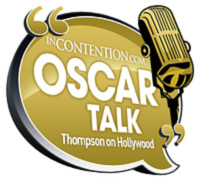 Welcome to Oscar Talk.
In case you're new to the site and/or the podcast, Oscar Talk is a weekly kudocast, your one-stop awards chat shop between yours truly and Anne Thompson of Thompson on Hollywood. The podcast is weekly, every Friday throughout the season, charting the ups and downs of contenders along the way. Plenty of things change en route to Oscar's stage and we're here to address it all as it unfolds.
You can feel the season rumbling to life with Halloween just around the corner.  It's been a lively enough week as contenders began to hit the circuit and more films were unveiled for eager press.  Let's see what's on the docket today…
• Anne and I both took in a screening of Edward Zwick's "Love & Other Drugs" this week. We fall on pretty much the same side of the conversation.
• Sean Penn was shuffled over to a supporting actor campaign this week, which leads us to a discussion of the contenders in that field and in lead.
• Jennifer Lawrence was in town this week to promote her work in "Winter's Bone," as was the "127 Hours" crew. We discuss the circuit as it begins to rev its engines.
• Halloween is coming up, so a discussion of favorite horror films is clearly in order.
• And once again, reader questions. This week we address issues concerning "127 Hours," "Black Swan," Jacki Weaver's Oscar chances and the Academy's penchant for recognizing young actresses more than young actors.
Have a listen to the new podcast below (with John Carpenter's piano and synthesizer leading the way). If the file cuts off for you at any time, try the back-up download link at the bottom of this post. And as always, remember to subscribe to Oscar Talk via iTunes here.
[display_podcast]

Back-up download: Oscar Talk Episode 38