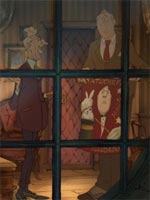 I stumbled upon this days-old THR story via Anne Thompson, and while I'm glad to see it hasn't caught on in the blogosphere, I feel compelled to point out just what bullshit it is. (My bad: Kris alluded to the news before THR did.) It would appear that Sylvain Chomet's probable animated Oscar contender "The Illusionist" is being hassled by parties attached to the 2006 Ed Norton-starring magician drama of the same title, who curiously feel that some kind of trademark is being violated:
Illusionist Distribution, LLC, claims to be the rights-holder of that [2006] film, and is upset that Sony intends to release its Illusionist, with a "strikingly similar" storyline about a touring master illusionist who falls in love.

Illusionist Distribution has filed a lawsuit in Los Angeles Superior Court against SPC and Pathe on grounds of trademark infringement and unfair competition, asking a judge to enjoin the November release of The Illusionist. The company is also seeking disgorgement of all profits plus compensatory damages.
This is idiotic in so many ways it's hard to know where to begin. Did they even see the 2010 "Illusionist" before levelling these charges? It may surprise them to learn that the protagonist of Chomet's film is not a "master illusionist" but an unremarkable music-hall entertainer, and that he has no romantic life in the film whatsoever. I don't recall any murder-mystery subplot in it either.
The films are both period pieces about magicians, I'll give them that — but if that counts as a "striking similarity," they could have gone through this four years ago with the near-simultaneously released, markedly more similar, "The Prestige." (Uh, wasn't that greater "competition" for the 2006 film than a European animated arthouse pic?)
That's not even taking into account the fact that Chomet's film is based upon a Jacques Tati script written a whole half-century before the 2006 film hit screens, so if they're trying to imply some kind of creative infringement has taken place, they'll need to get hold of a time machine.
The only solid fact this really comes down to is that the films share a title — except it's well known that titles cannot be copyrighted. (If they could, a 1983 Dutch comedy that precedes both films would have some say in the matter.) Hey, ever notice all those "striking similarities" between David Cronenberg's "Crash" and Paul Haggis's 2005 Oscar champ? How about the two 2010 releases — one an Amy Adams romcom, the other a Mexican sadomasochism study — called  "Leap Year?" Good luck in court, fellas.
[Image: Sony Pictures Classics]