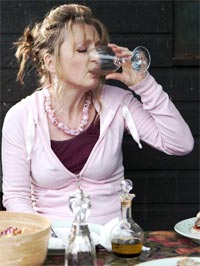 "The British are coming!" crowed screenwriter Colin Welland from the Oscar stage in 1982, hoisting aloft his just-awarded awarded statuette for "Chariots of Fire" – and anticipating one of the bigger upsets in the history of the Best Picture race, as the modest British sports drama upended Warren Beatty's grand political epic "Reds."
His rallying cry was both premature and behind the beat. Welland may or may not have been aware that the Brits had crashed this particular party several decades previously. In 1948, Laurence Olivier's "Hamlet" became the first non-US production to land the Academy's top prize, while the 1960s were something of a golden period for England at the Oscars: while films like "Lawrence of Arabia," "Tom Jones" and "Oliver!" emerged triumphant, so many Brits vacuumed up the acting prizes that Hollywood industry gossips – the bloggers of yore – began to complain. "It's not fair," whined Hedda Hopper. "The weather's so foul on that tight little isle of theirs, that to get in out of the rain, they gather in halls and practise 'Hamlet' on each other."
But Welland's promise of a similar period of ubiquitous Brititude was kept only in fits and starts: Richard Attenborough, Ben Kingsley and "Gandhi" may have ruled the roost the following year, but it would be a whole quarter-century before another predominantly UK production (and coincidentally, also one with an Indian bent) took the top prize. In the early 1990s, Limey actors enjoyed a four-year run of wins in the lead acting races – from Daniel Day-Lewis through to Emma Thompson – only for their luck to dry up until Helen Mirren initiated another mini-streak 14 years later. "The British are coming… for occasional visits," might have been a more accurate boast, if not quite as rousing.
This year, however, the Brits can be forgiven for feeling quite bolshy as the season fires up. Springing from what has been a more artistically robust year than usual for the UK film industry – albeit mostly for scrappy independent fare that will barely catch US viewers' (much less voters') attention, from Chris Morris's "Four Lions" to Peter Mullan's "Neds" – is a potential trio of higher-profile Best Picture contenders, representing three very different facets of British cinema.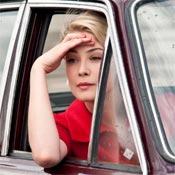 The only certain nominee among the three is also the most old-school. Period royalty biopic "The King's Speech" is genteel, prettily mounted and exactingly acted: heritage cinema of the variety that people are quick to label "Oscar bait," though the truth is that voters are quicker to hand such films the nomination than the win. I discussed the Academy's recent inclination toward contemporary stories in a previous column, but a glance down the list of Best Picture champs reveals fewer posh-accented costume dramas — or "royalty porn" outings — than you might expect, while wins for "Tom Jones" and "Shakespeare in Love" suggest the Academy does like corsets paired with some comedy. That, perhaps, is an even better omen for "The King's Speech" (which, while ostensibly a light drama, gets audiences chuckling) than its noble subject.
If I just called "The King's Speech" light, then another period piece in the running, Nigel Cole's chipper fact-based Britcom "Made in Dagenham," is a veritable helium balloon. But following in the grand British tradition of upbeat working-class comedies that touch gently on social injustices and prejudices — two notable recent examples, "The Full Monty" and "Billy Elliot," finding many fans within the Academy — the film fiddles with the balance slightly by adding composite biopic and Big Issue elements to the formula. That could strengthen the film's appeal to fun-wary voters, who could bolster its more populist fanbase if (and it's a big if) the film proves even a specialty-scale crowdpleaser upon its US release.
Covering opposite ends of the class spectrum, "The King's Speech" and "Made in Dagenham" nonetheless occupy the same side of the coin: both are old-fashioned, middlebrow entertainments that present a fairly romanticized, rousing snapshot of their countrymen. Compare Tom Hooper's film, which hinges on the idea of a royalist British public pinning all its hopes on their monarch, to the 2006 Best Picture nominee "The Queen," which more sourly details the dissipation of the country's belief in the Royal Family as a national institution, and one begins to see the argument for labeling the former "Britfilm for America."
Something similar could be said for "Made in Dagenham," which irons out the suffering and squalor endured by the council estate-dwelling sector of the population to this very day. This is Britain as she likes to present herself to the world, rather than as she is (or was).
For that, we have the reliably astringent Mike Leigh, whose witty, but often chillingly bleak, character drama "Another Year" distinguishes itself from its compatriots in the race by being contemporary-set, an individual auteur work and a bona fide art film — as opposed to merely a high-end prestige product. That first distinction is a crucial one. Though the film operates in Leigh's trademark mode of heightened realism, one that tends to aggravate as many UK viewers as it attracts, it engages directly with everyday concerns of today's average Briton: families, broken and otherwise, the pursuit of companionship and the terror of not finding it, class friction, substance abuse, death.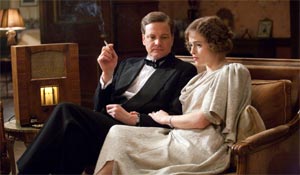 Like Leigh's previous film, "Happy-Go-Lucky," "Another Year" portrays happiness — as maintained by the central couple in the film's ensemble — as a rare, jewel-like commodity in a London teeming with loneliness and insecurity. That's rather an opposing read to the swelled-heart, we-shall-overcome patriotism espoused in the finale of "The King's Speech" (which, if I may draw a remote Oscar parallel, is perhaps more this year's "Mrs. Miniver" than anything else) and certainly not the type of British study that has ever risen to the top in the Best Picture race.
But if recent triumphs for the likes of "Crash," "No Country for Old Men" and "The Hurt Locker" arguably point to an Academy more preoccupied than usual with issues of absence and uncertainty, perhaps "Another Year," dark horse that it is, is the one title in this year's Brit Pack that matches the voters' mood best of all. And if Mike Leigh were to join the all-but-inevitable Colin Firth in this year's winners' circle (if only for that Best Original Screenplay award he's long been owed), we might be able to adjust Colin Welland's cheer once more. The British are not only coming, they're coming from very different places.
[Photos: Sony Pictures Classics and The Weinstein Company]