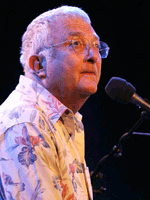 Randy Newman has been a fixture of the Pixar brand since day one.  He composed the score for 1995's "Toy Story" and supplied the original songs, "You've Got a Friend in Me" becoming the theme of the franchise.  After receiving 15 nominations without a win, he finally took home his Oscar in 2002 for the original song "If I Didn't Have You" from "Monsters, Inc."
This year, Newman is back in the thick of the discussion as he has offered up a new original tune for "Toy Story 3," namely, "We Belong Together."  The song plays over the closing credits (though I could have sworn I remembered it in the context of the narrative), so that could make it tough.  But I have a hunch it'll be fine.
The song is standard Newman/Pixar fare.  There's certainly no reinvention of the wheel going on here and the song is incredibly simplistic (as it would be in a film largely aimed at children).  But I don't imagine all of that will really count against the track.  If nominated, it will be Newman's 20th invitation to the dance.
Have a listen to "We Belong Together" below, and remember to keep track of the Best Original Song race via its dedicated Contenders page here.
[display_podcast]
[Photo: WFUV]