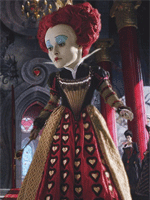 Back in early September DreamWorks sent out a mailer that was, in my book, the first "For Your Consideration" stab of the season, offering up "How to Train Your Dragon" as a contender in pretty much every category.  But the mailer wasn't an advertisement place at any outlet, so the first "official" FYC ad of the season goes to Disney's "Alice in Wonderland."
Dave Karger alerts us to the ad, which is part of the recently revealed full-steam-ahead push for the film across all the categories.  A billion dollars gets you a lot of love come awards season.
Being first at anything puts you in a good position when it comes to an Oscar race.  Currently, as Karger reminds, voters have screeners of "Animal Kingdom," "City Island," "Mother and Child" and "Solitary Man" (though you can add "Please Give," "Winter's Bone" and "You Will Meet a Tall Dark Stranger" to that list, too).  Now when they open their trusty trades, they'll see Helena Bonham Carter's exaggerated features staring right back at them.  Check out the full FYC ad after the jump.